MyODP News Online
Disability Pride Virtual PA 2020 Event Planned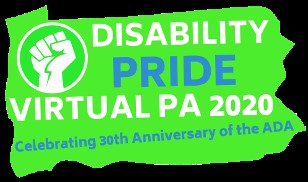 The 30th Anniversary of the passage of the Americans with Disabilities Act occurs on July 26, 2020. To coincide with that anniversary, a 30-day Virtual Disability Pride event sponsored by Western Pennsylvania Disability History and Action Consortium, the Institute on Disabilities at Temple University, the Pennhurst Memorial & Preservation Alliance and ADA 30 Pittsburgh and Allegheny County is planned. Information on events is available at the Disability Pride Virtual PA Website or https://www.disabilitypridephiladelphia.org/disability-pride-virtual-pa-calendar?view=calendar&month=07-2020
A facilitated virtual panel discussion on "Learning from Our History: Living Beyond the Walls of the Institution occurs on July 22, 2020 from 4:30 to 6:00 PM. The panel features Facilitator: Guy Caruso, Western Coordinator, Institute on Disabilities at Temple University
And Invited participants including:
Brenda Dare, self-advocate, Independent Living Project Manager for Transitional Paths to Independent Living;
Jamie Ray-Leonetti, Associate Director of Policy, Institute on Disabilities at Temple University;
Debbie Robinson, Executive Director, Speaking for Ourselves;
Nancy Thaler, former Deputy Secretary for the Pennsylvania Office of Developmental Programs.
The discussion's focus will be on the obstacles involved in living beyond the walls of institutionalized settings, current issues in community-based services, and what the future might hold. To pre-register for the event or to join while in progress, please visit the Disability Pride Virtual PA website linked/listed above. Captioning and ASL interpretation will be provided. To further frame the discussion, individuals are encouraged to watch one of several videos available on the website.
For additional information, please call 412-204-7199 or info@wpdhac.org