MyODP News Online
The New Pennsylvania Medical Assistance ACCESS Card is Here!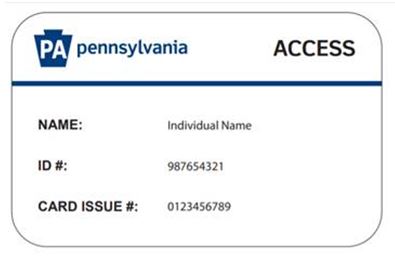 The familiar yellow Medical Assistance (MA) ACCESS Card has been redesigned, losing its color, but retaining its functionality. Also removed are the magnetic strip and signature line that had been on the back of the old card.
Anyone who receives MA is issued an ACCESS card and this card acts as a form of identification. The card does not expire, but beginning Friday July 24, anyone who receives a new card will receive the redesigned version. This version is white with blue and black lettering, as seen here.
Anyone who requests a replacement card will receive the redesigned version. You do not need to request a new card, if you still have your current card, as your identification number remains the same, and providers will accept either card.
For more information, please see MA Bulletin 99-20-08 and MA Provider Quick Tip for more information.