MyODP News Online

Everyday Lives Conference LIVE Coverage - Day 3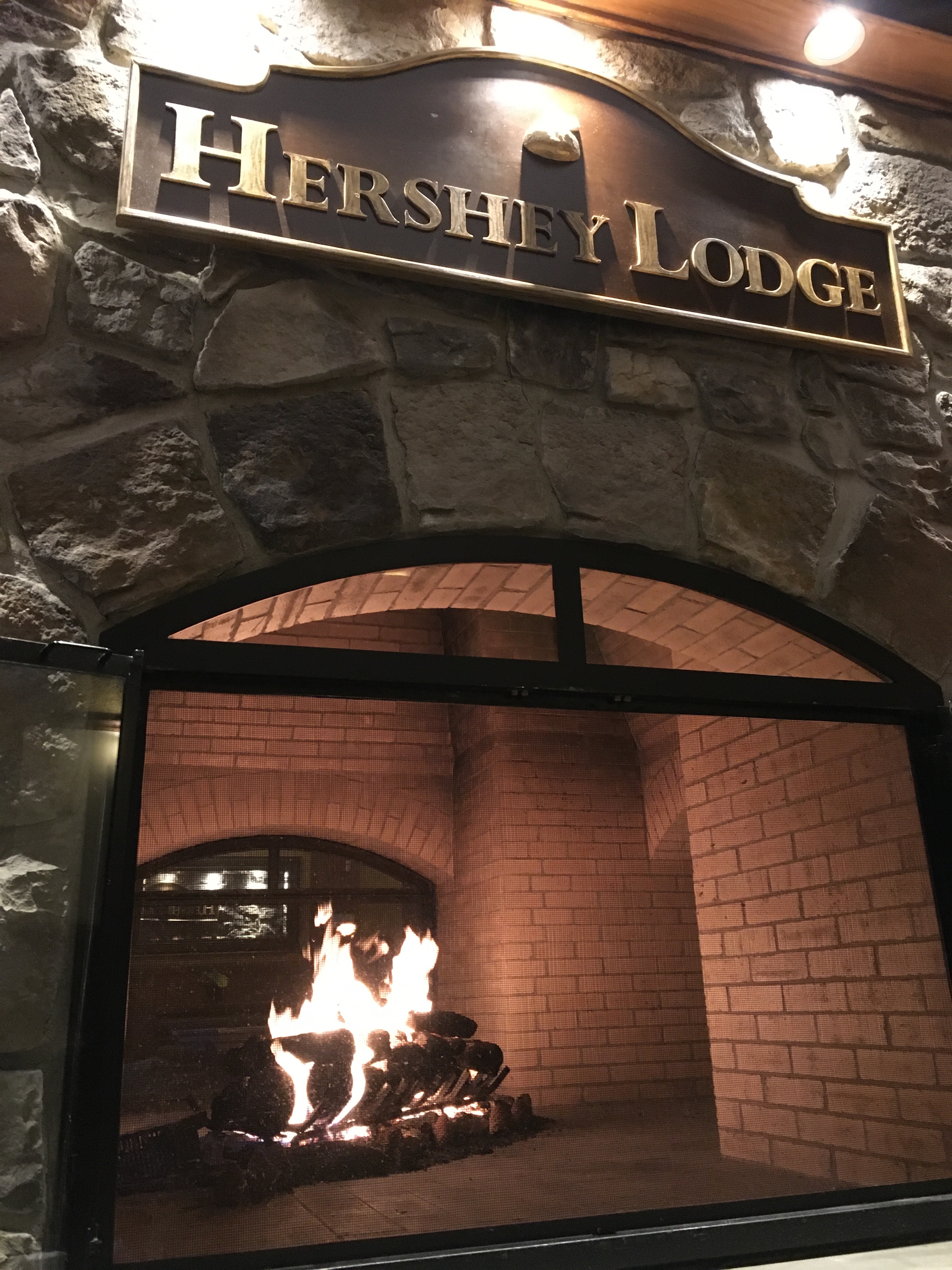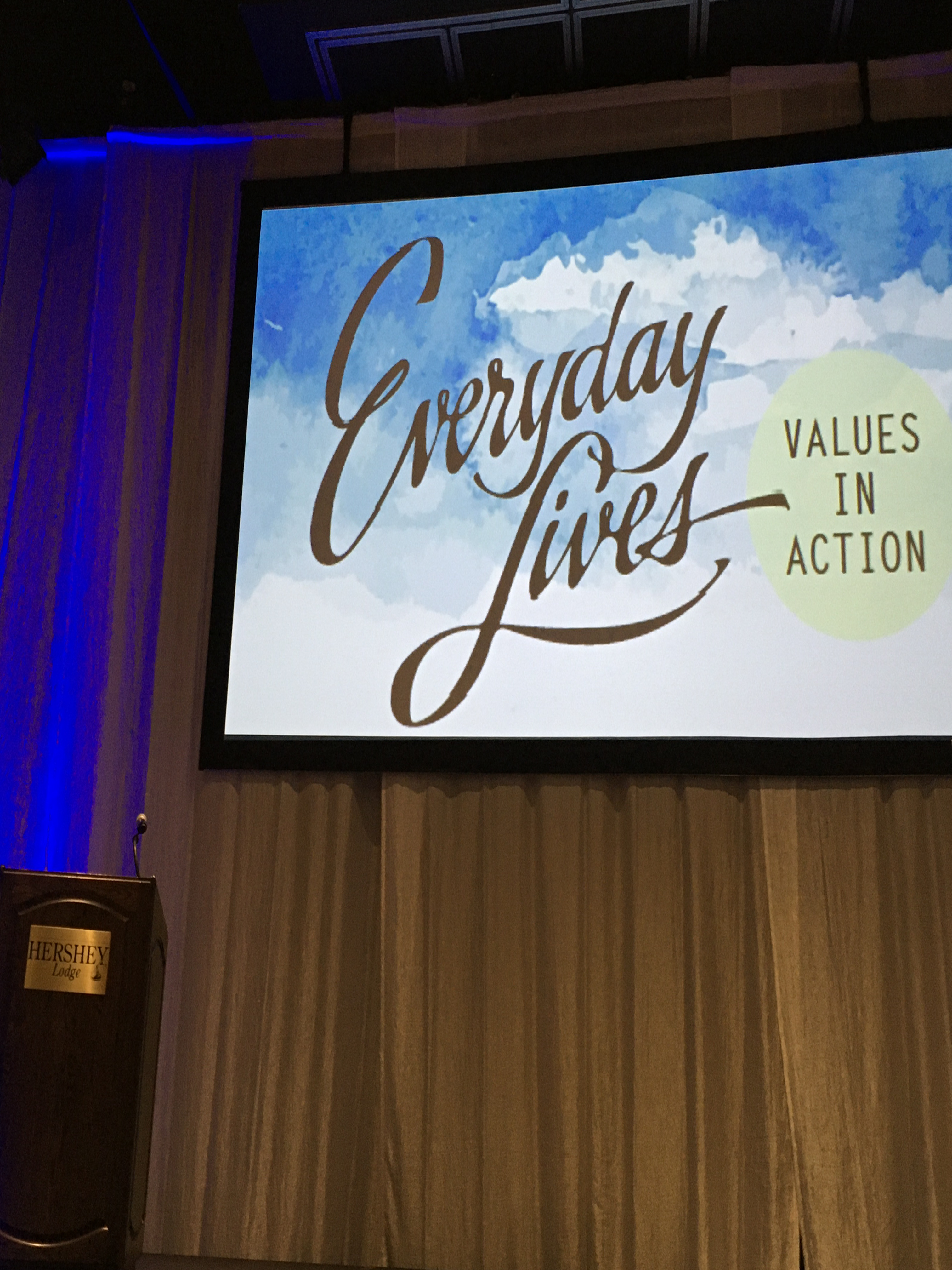 The third and final day of the 2020 Everyday Lives Conference is upon us. It is a bittersweet end to coming together in the "Sweetest Place on Earth." Much has been shared, much has been learned. The plethora of options for break out sessions, poster sessions, entertainment, panel discussions, and presentations has offered an examined look at the everyday lives of those supported by our service system. But the final day has only begun.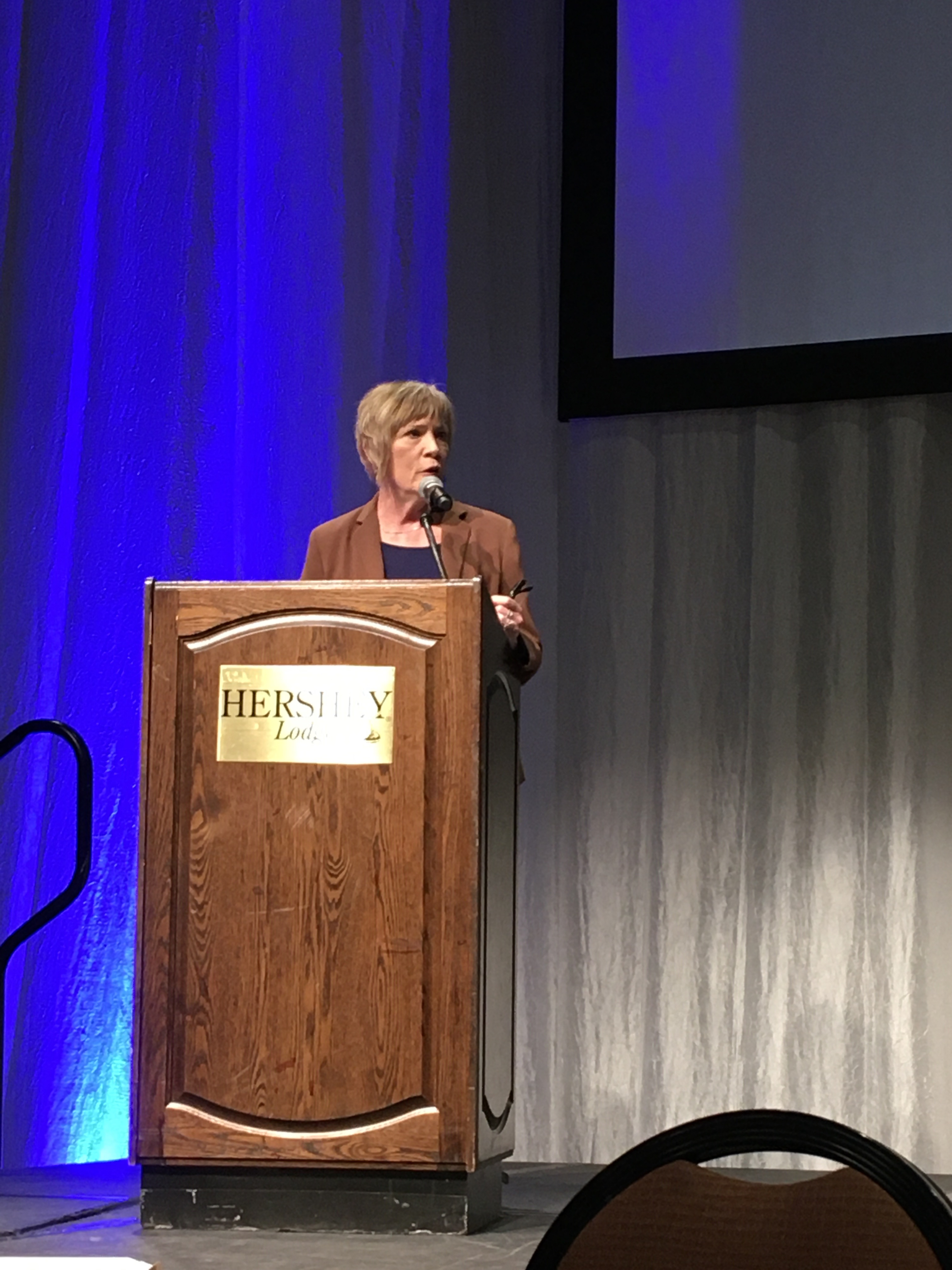 ODP's Sheila Theodorou introduces today's keynote
to the opening tune of Revolution by The Beatles.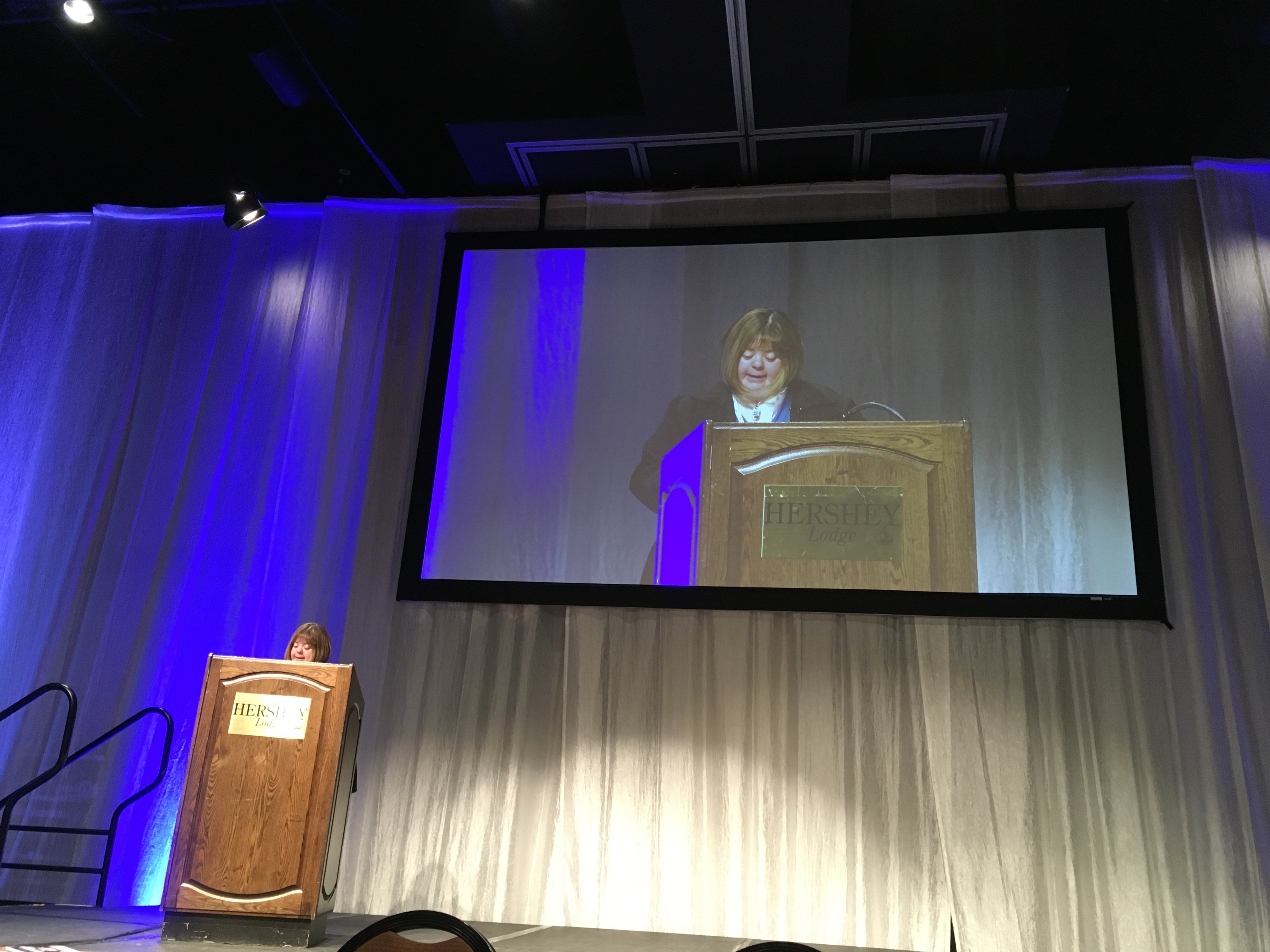 Featured Keynote Speaker, Sara Wolff discusses "Promoting a Culture of Awareness and Acceptance." A small town girl and skilled inspirational speaker, who happens to have Down Syndrome, Wolff discusses the challenges she has overcome on the road to success.
Wolff relates anecdotes about how she has overcome barriers. She says one of the greatest she has faced is having a small nose and long lashes, which made it difficult finding glasses. She overcame this barrier by wearing contact lenses instead. Wolff says that she does not see herself as having Down Syndrome. "I call it Up Syndrome."
Wolff relates that a pediatrician recommended to her mother that Sara be institutionalized. Her potential was not appreciated. Rather than follow this short sighted advice, Sara's family brought her home, where she has always taken part in the same activities as her brothers, church, school, and community.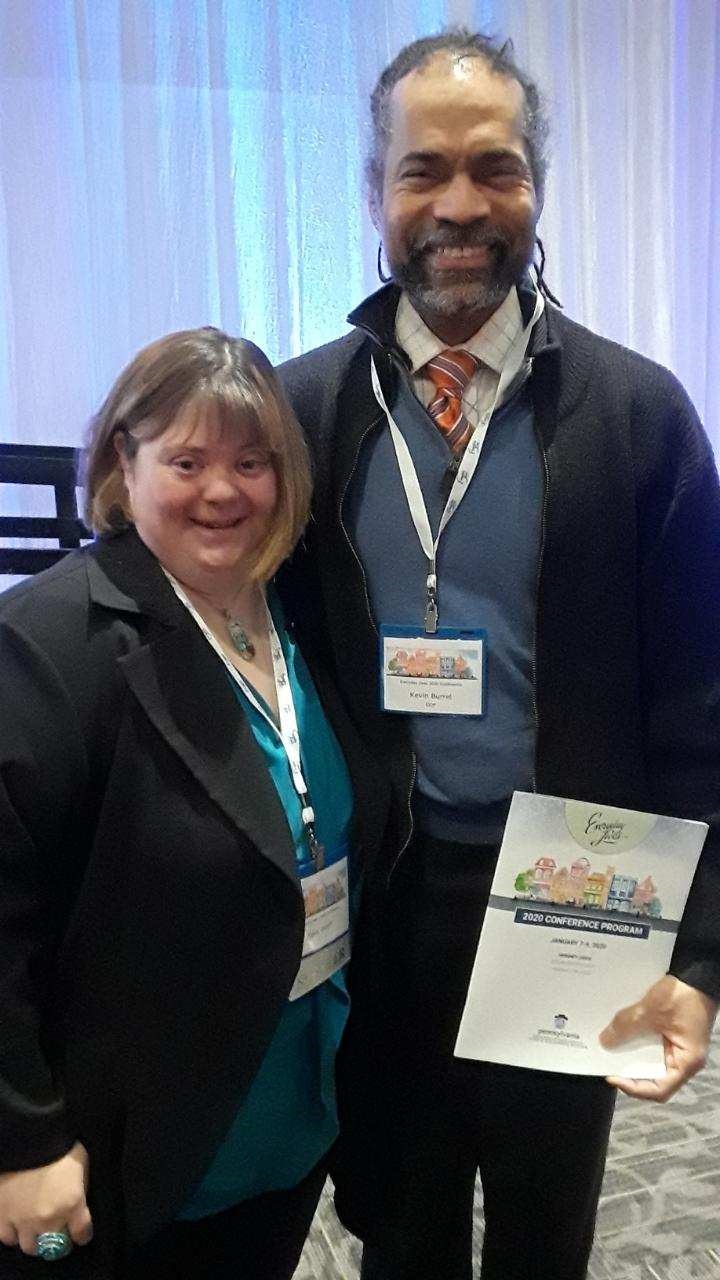 Wolff's articulate and cordial manner of presentation holds the audience of nearly 1000 conference-goers eager to hear more of her life story. She shares the positive experiences of her life, as she discusses family, friends, teachers, and others who have supported her. However, Wolff is first and foremost a force. Through self determination she has succeeded, building upon her own will and grit.
A long time employee of O'Malley and Langan law firm, Sara has seen success as a legal clerk. She also is a prominent self-advocate, public speaker, and engaging personality. She relates that from her formative years through transition, when her friends left for college, Sara has persevered. She enrolled in a local university, earned 15 credits, and continued to build her career through the law firm, where she played an integral role in raising awareness for the ABLE act.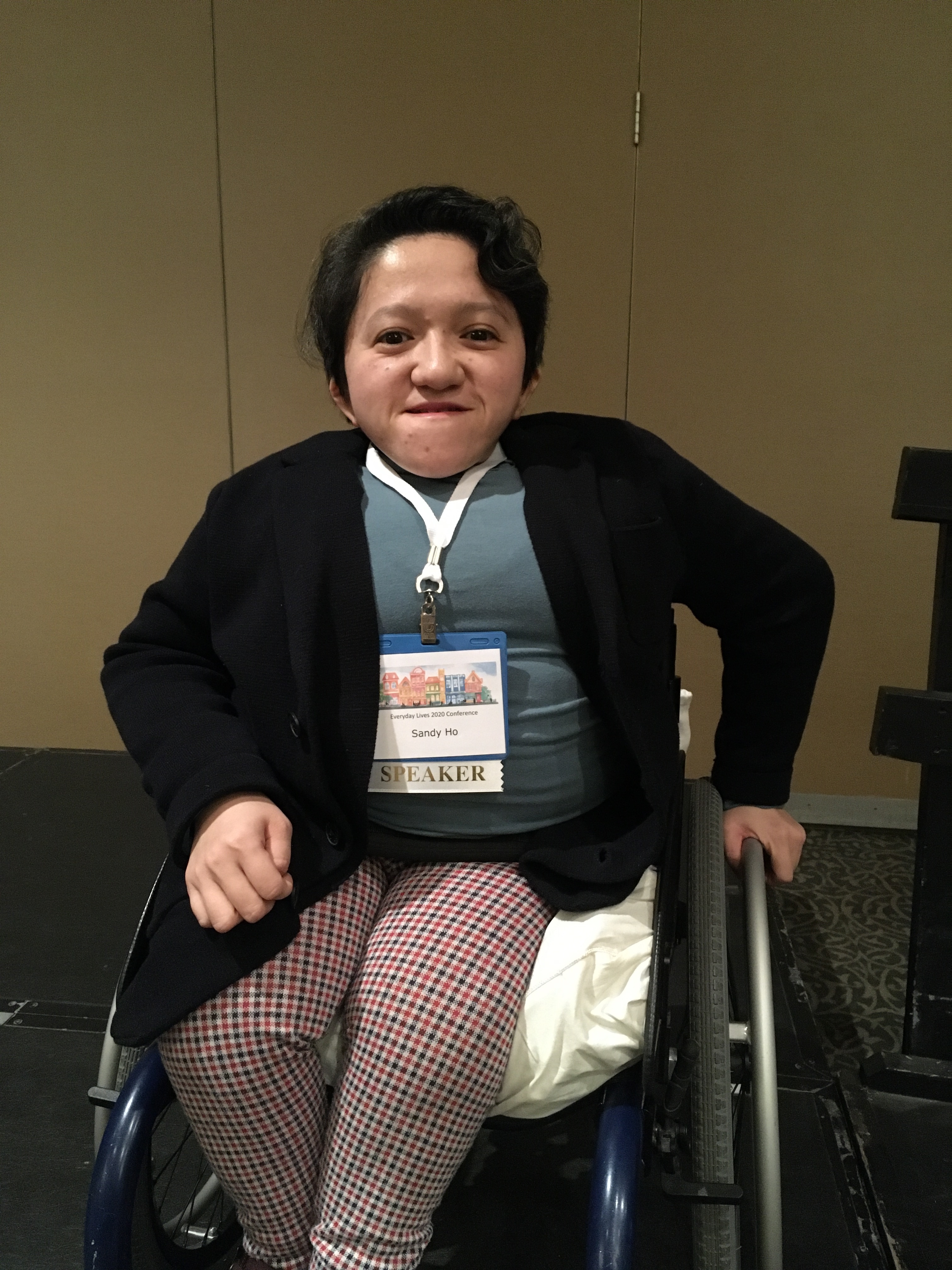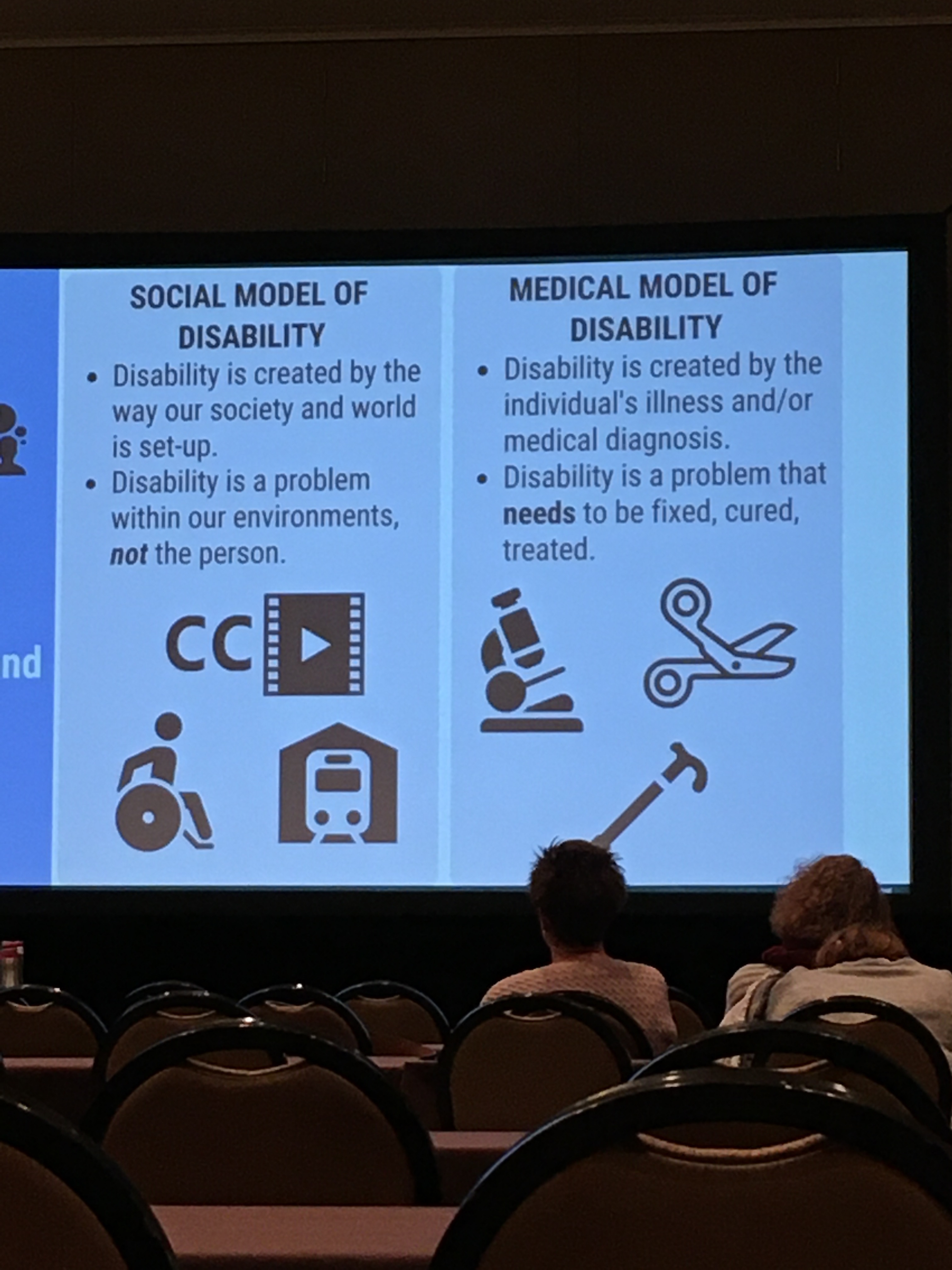 "Disability rights are human rights. Disability justice is social justice. Disability organizing is civic engagement."
Sandy Ho is a community organizer and disabilty policy researcher. Her presentation explores how disability shapes our social and political lived-experiences and identities. "How do we propel disability discussions beyond inclusion and awareness?" she asks. She draws on her own experience and shares how disability has shaped how she is perceived.
Ho examines fundamental models of disability and discusses how those have informed stereotypes and social perceptions of people with disabilities. She described the 4 models disability: social model, religious model, medical model, and charity model.
She connects these models with intersectionality, delving into how disability intersects with race and ethnicity, sexual orientation, and immigrant status. "As an immigrant, as a refugee, as the only disabled child in the family, and as the only girl child," Ho says, these various characteristics are accompanied by perceptions that are associated with each possible stereotype. Ho explains that, although she feels as though one model isn't more right than another, they intersect and impact people differently.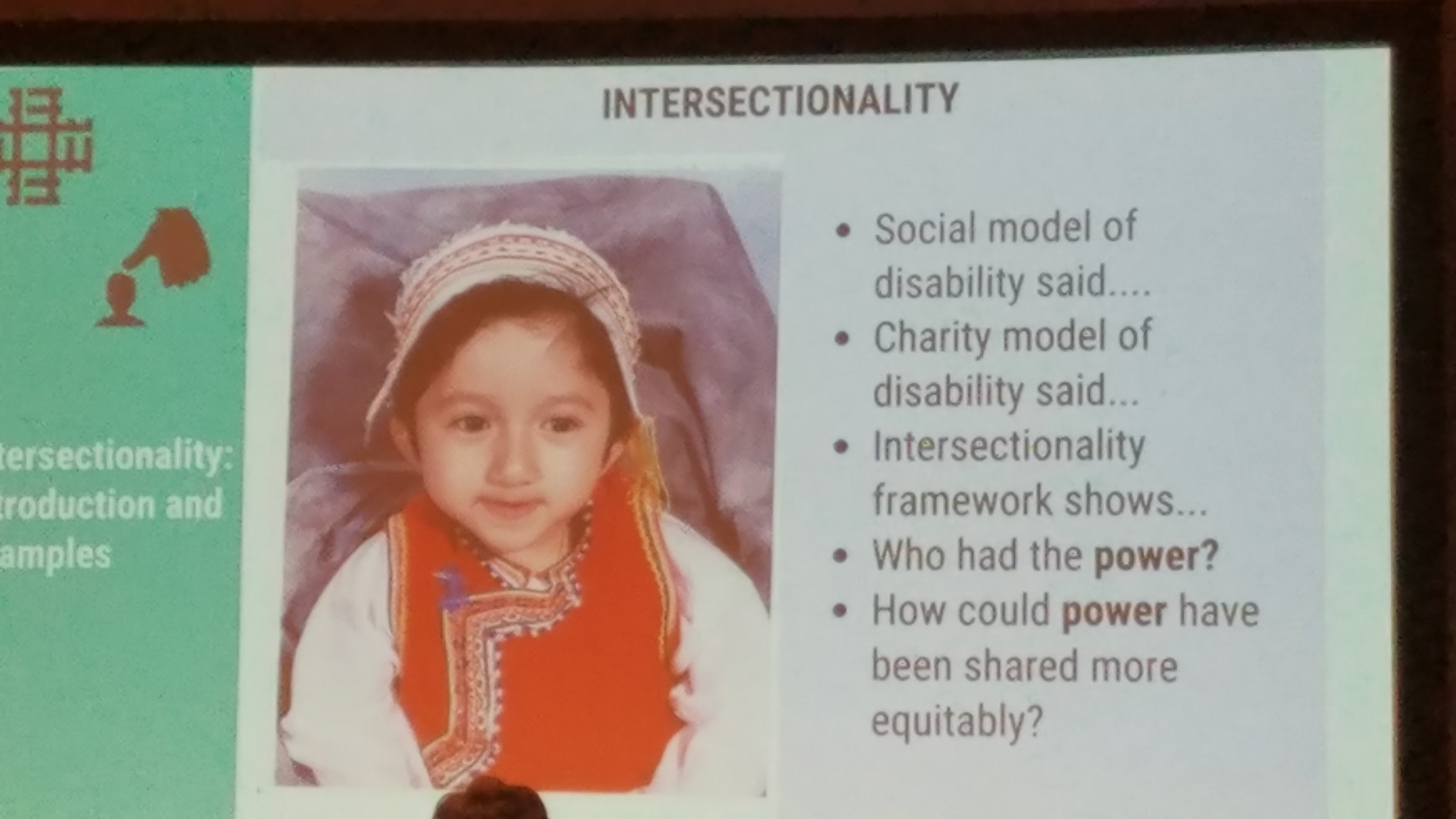 Ho shows a picture of herself as a young student. She is in traditional Asian dress and her wheelchair has been covered. It is an image that reflects how others have characterized her, from how her parents choose for her to dress to how her "progressive" school chose to hide her chair. Ho says it is not a portrayal of how she sees herself.
While she was integrated into classes the message given by the image indicates that "certain aspects of me had to be hidden away." For Ho, the message received was "either you are like the other kids or you are not."
She speaks as to how our various identities intersect. This has wide ranging implications, even in terms of privilege. She addresses the "multiple levels of marginalization." Ho refers again to her school photo. Able to attend a progressive school, she was nevertheless, marginalized. "Who had the power? The photographer? The teacher? The classroom aid?" Ho's mother went to school to complain as to her daughter's portrayal.
"What if the photographer had just asked?" She points out that even at the age of 4 self-advocacy can be taught.
Next, Ho maps out the Disability Justice Framework and explains how to build access and sustainability through the utilization of this framework.
Ho asks "As we move into the next decade, how will our social and political understandings of disability evolve? What is necessary to move disability beyond awareness?" The questions are posed to attendees. Ho suggests the answers inform as to the importance of an intersectional framework, as we continue to advocate for greater disability rights moving forward.
In conclusion, Ho emphasizes, "disability discrimination can and must be addressed by following the leadership of those most impacted."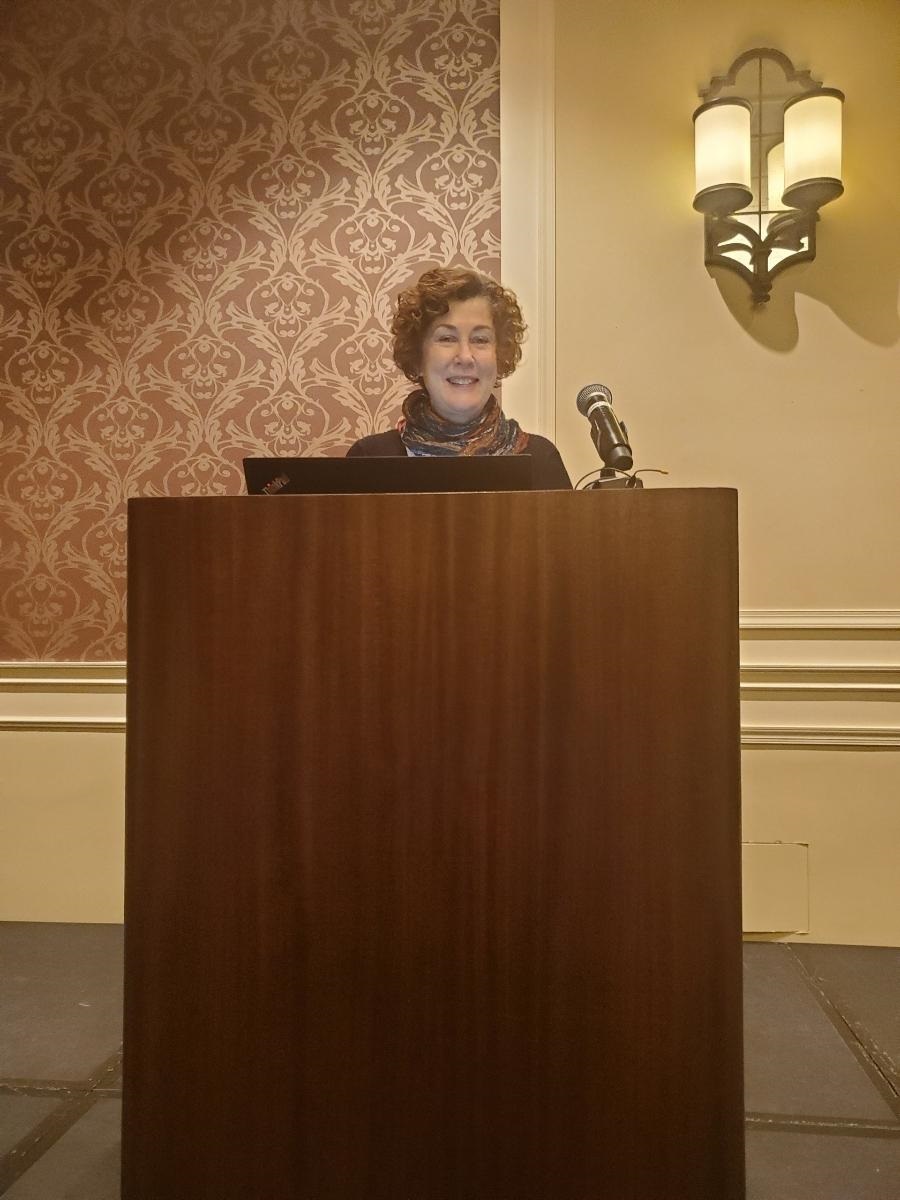 Brenda Finucane, MS, LGC, at Geisingers Autism and Development Medicine spoke about the role genetics are playing in the testing, diagnosis and next generation treatment approaches for persons with developmental brain disorders.
Symptom diagnoses address the outer manifestation of behaviors. Those with similar behaviors are lumped together. Genetics examine the underlying cause (etiology). Doing genetic breakdowns of families can help address various concerns of family members as to where the condition came from and how best to address treatments. Essentially genetic testing will allow the development of more targeted treatments. This can help anticipate medical needs, provide insights into behaviors and learning styles, and help develop further treatment methods and interventions that will better treat the condition.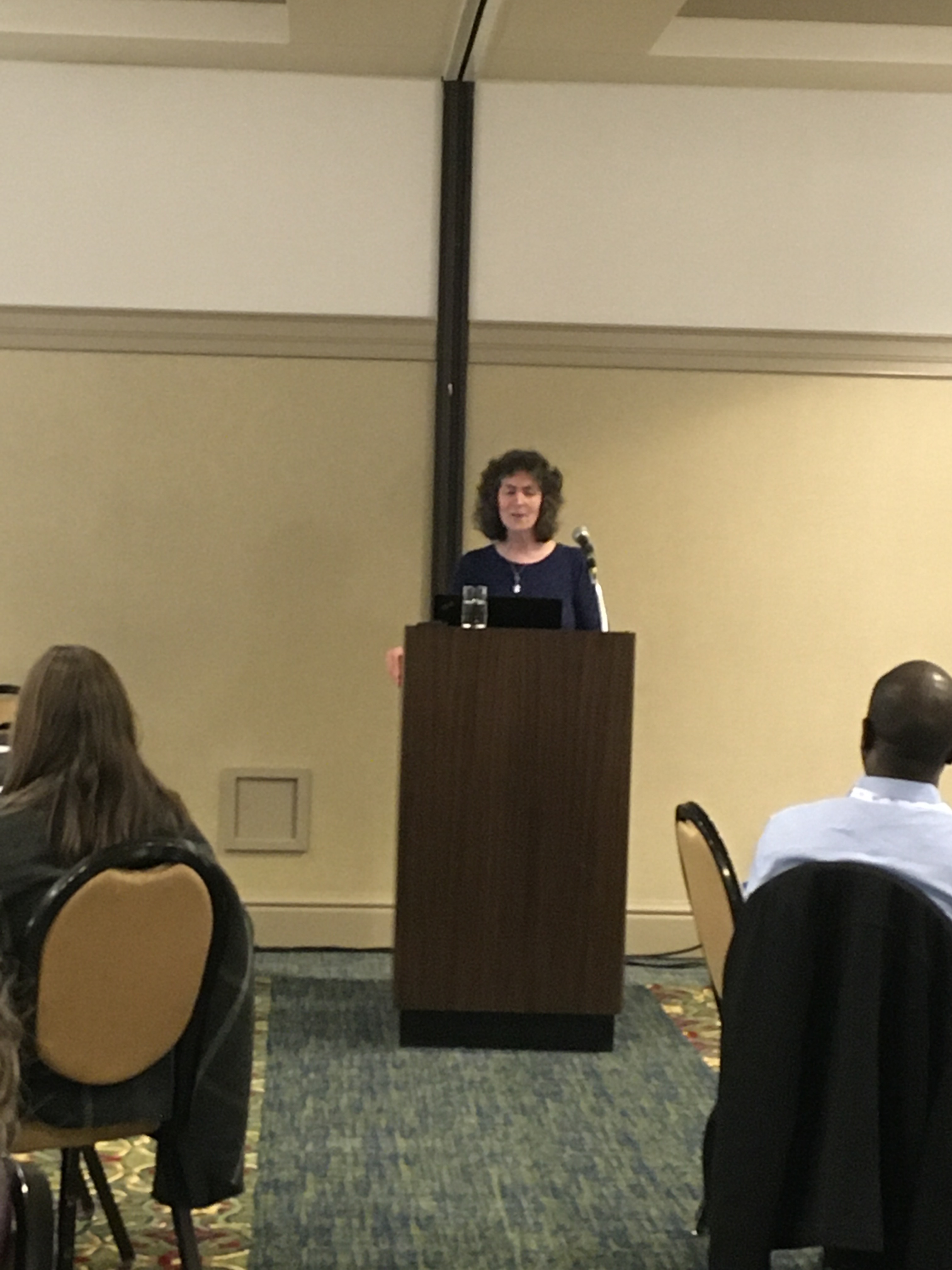 Dr. Janice Light discusses AAC interventions for a professional audience at the 2020 Everyday Lives Conference. Dr. Light explains that many individuals with developmental disabilities have complex communication needs and cannot rely on their natural speech to communicate. Without access to functional speech, they are severely restricted in their participation in all aspects of their lives.
Dr. Light highlights evidence-based AAC interventions used to enhance communication, improve language and literacy skills, increase participation, and support the self-determination of individuals with complex communication needs.
The key components of AAC intervention are examined, including innovative AAC technologies; instruction to build linguistic, operational, social, and strategic skills; and intervention to reduce barriers to participation. Dr. Light provides case examples to illustrate the impact of AAC intervention on communication, participation, and overall quality of life for individuals with a range of developmental disabilities and their families.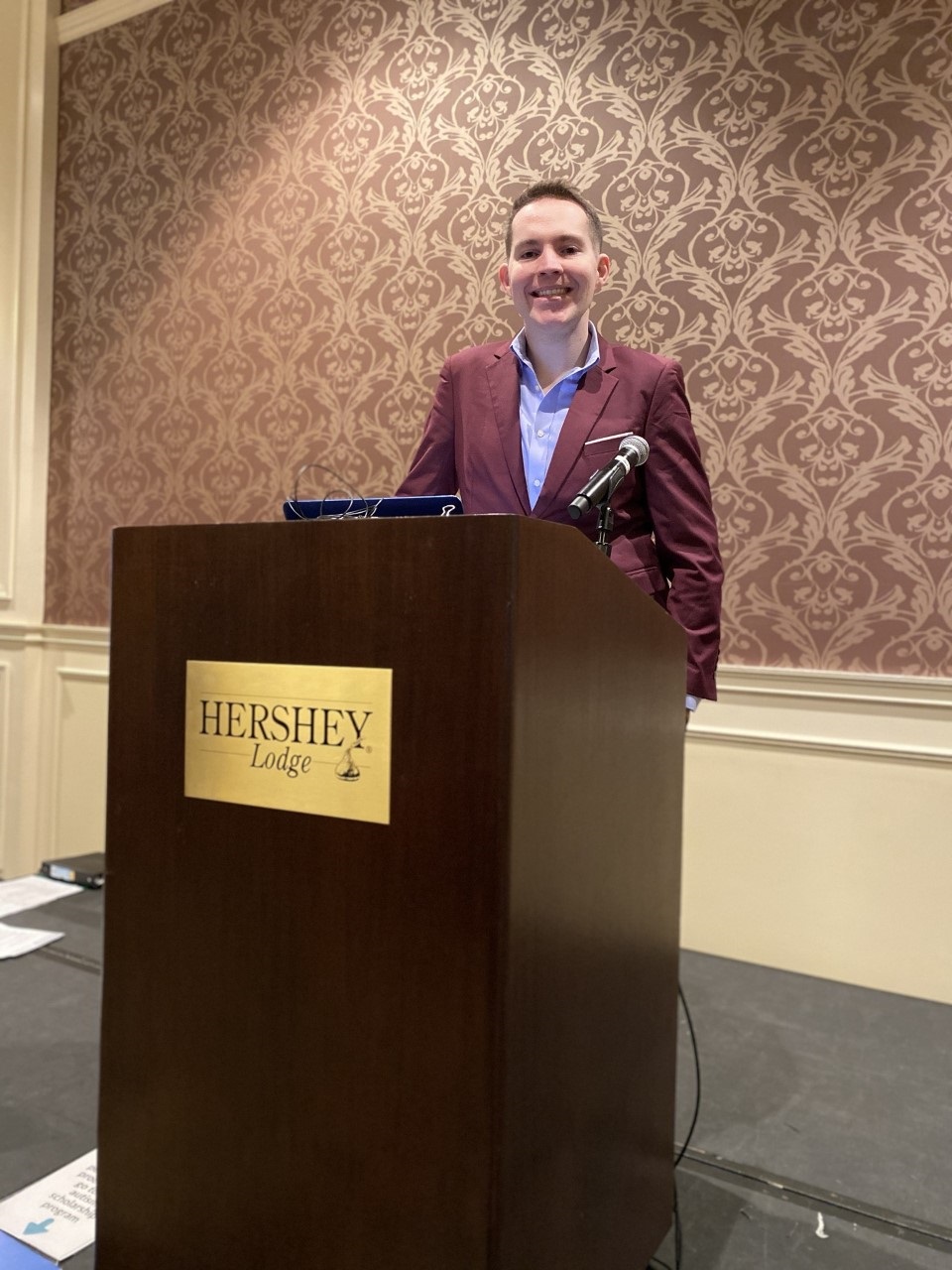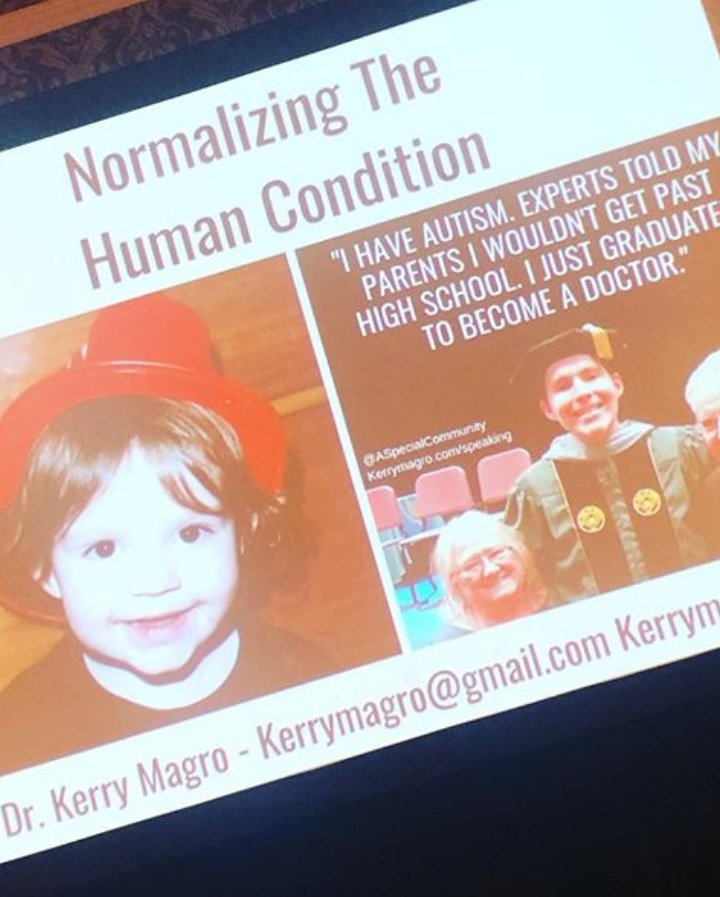 Dr. Kerry Magro leads an interactive session on Normalizing the Human Condition. Discussing how he survived growing up on the spectrum, Magro relates his life story. Non-verbal until he was two and a half years old, Magro lists the series of conditions with what he was diagnosed, such as severe sensory integration dysfunction, auditor/processing disorder, twirling, dysgraphia, and motor challenges. He says that throughout adolescence, he experienced emotional issues due to limited speech. Further, he contends that sensory processing issues that started at two years of age (including hypersensitivity to sounds, feeling of wind, rain and snow, water, inability of being touched, preferred bologna sandwiches due to food sensitivities, stamps on hands) also presented barriers. Magro received OT to assist him in addressing these issues, yet he remained victim to bullying.
Magro elucidates on how the bullying impacted his life, as well as described how his lack of social ability debilitated being able to defend himself. Magro identified the importance of the need to educate other students on what bullying is, what a friend is, and learning when someone is being sarcastic.
Key to providing that education is a discussion with those who have disabilities. "We need to hear from the people with disabilities to know HOW to improve or practices and meet THEIR needs," Magro says. "When society puts our kids in a box, and they don't fit in the box, we need to make the box bigger."
Normalizing the human condition, says Magro, is what connects all of us with one another. He explains that people with disabilities are the biggest minority in the world, but they receive the least amount of services/ service options.
Magro advocates that we work with children so they can begin to learn how to advocate for themselves at a very early age and make sure they know they aren't going through the journey alone.
For all ages, we need to focus on inclusion and helping those with disabilities engage with the world around them, he contends.
Magro details his journey, which led to overcoming barriers and attaining a doctorate degree. He is a published author and dynamic public speaker on the topic of normalizing the human condition.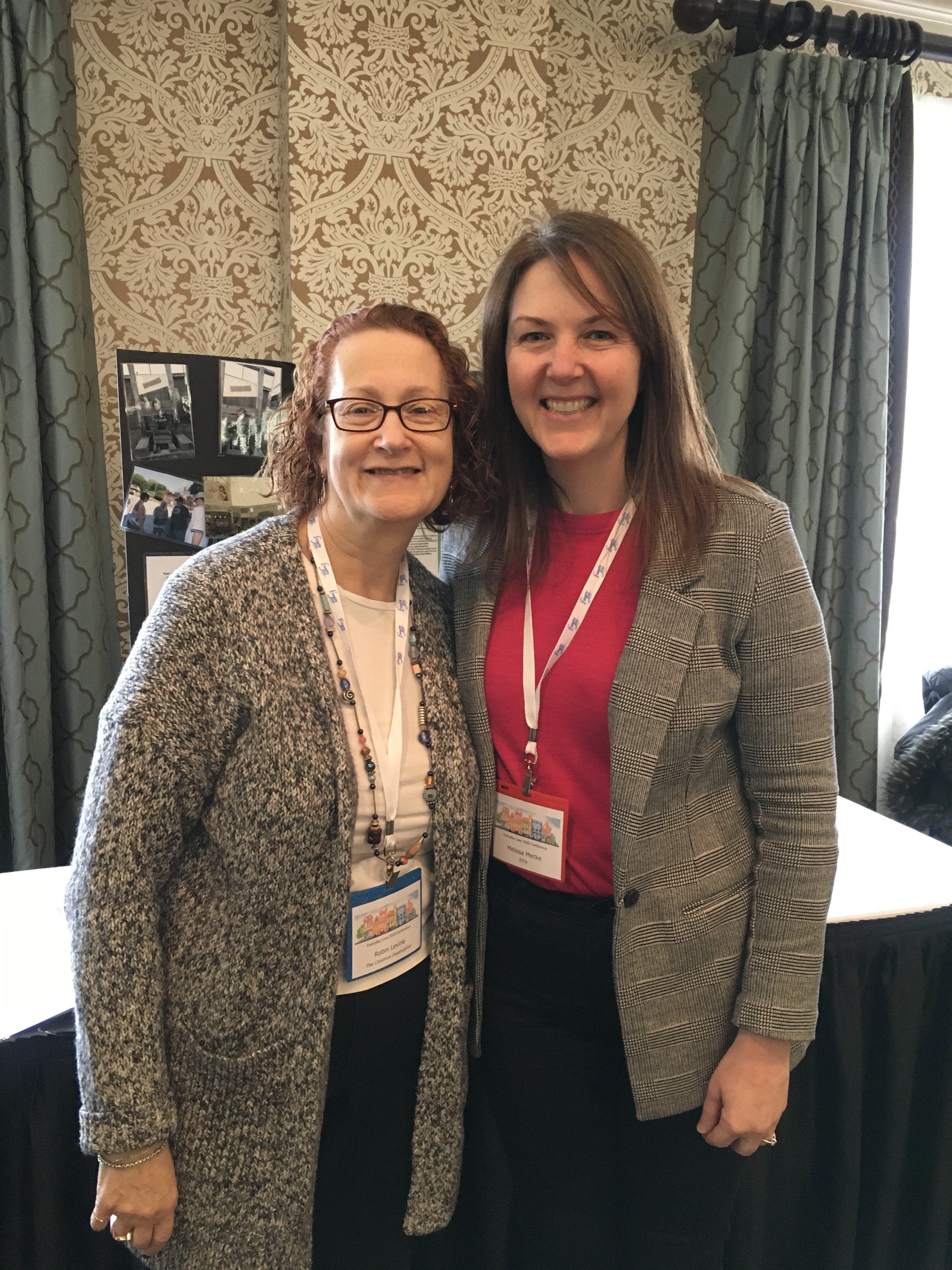 Robin Levine of The Columbus Organization and Melissa Mecke of Tuscarora Intermediate Unit enjoy the 2020 Everyday Lives Conference.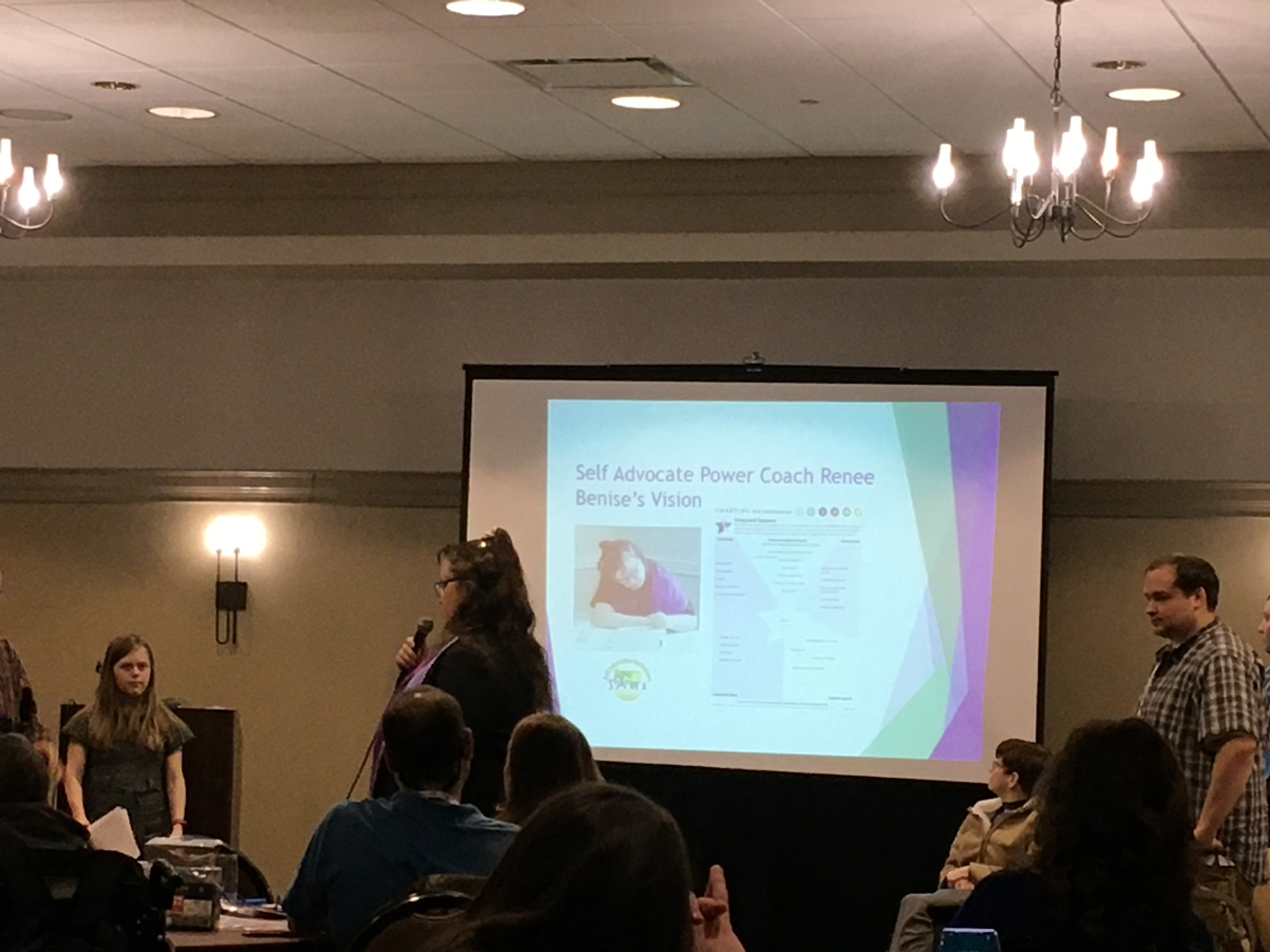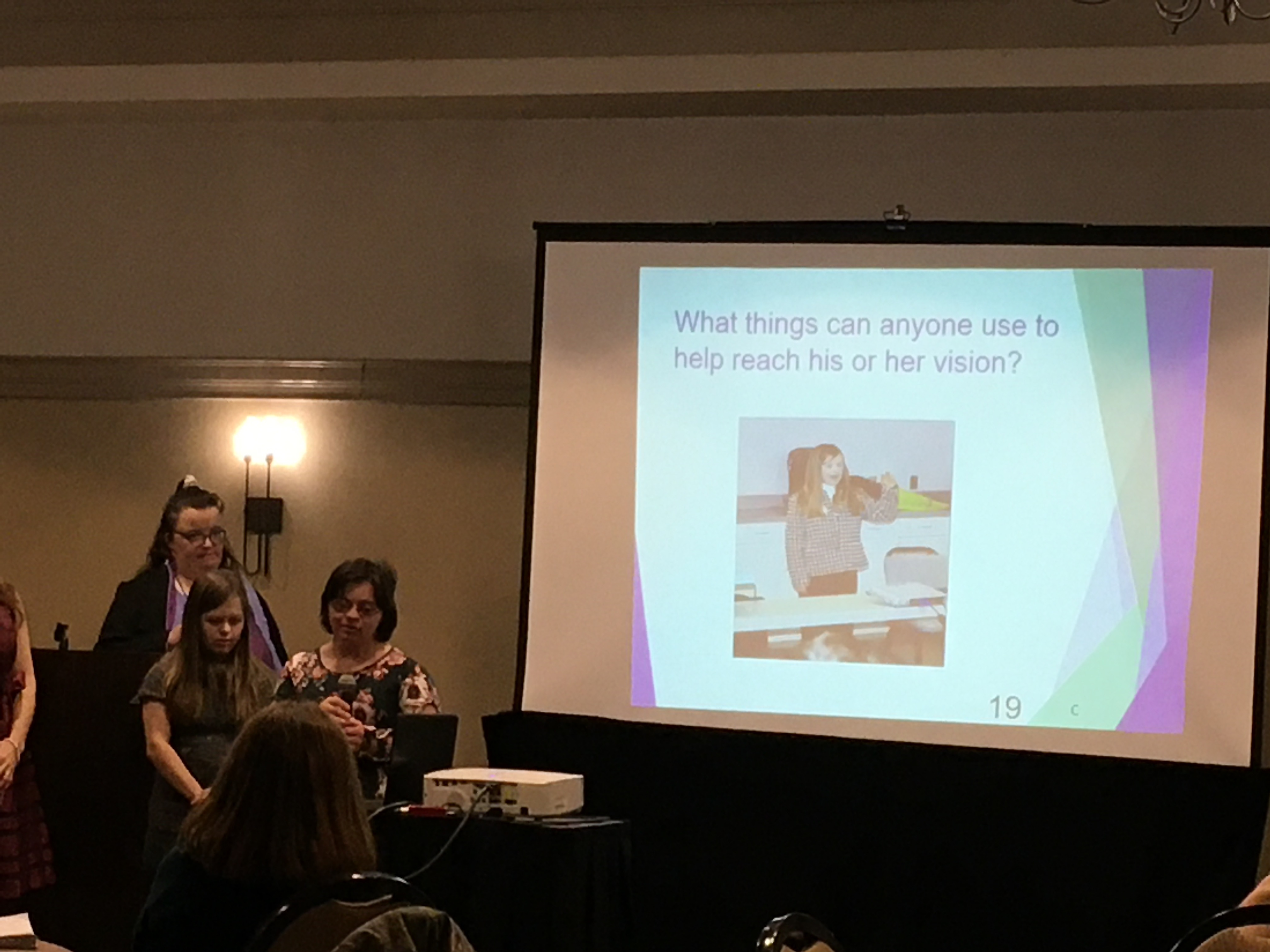 Self Advocates United as 1 (SAU1) is a Pennsylvania based self-advocacy group who envision a world where people with developmental disabilities and their families are united to share knowledge, empower others, and use their voices to transform communities. Members of SAU1 share their own experiences with the LifeCourse tools and how LifeCourse can be used by individuals and families to achieve an everyday life.
Rene Benise is a self-described "workaholic," a Power Coach with SAU1, she provides LifeCourse training at the 2020 Everyday Lives Conference. Benise shows her own star, illustrating one of the LifeCourse tools. Benise says one of the goals on her chart is helping to eliminate the waiting list.
Christine Brigstone facilitates as members of SAU1 guide participants through the process of Charting the LifeCourse.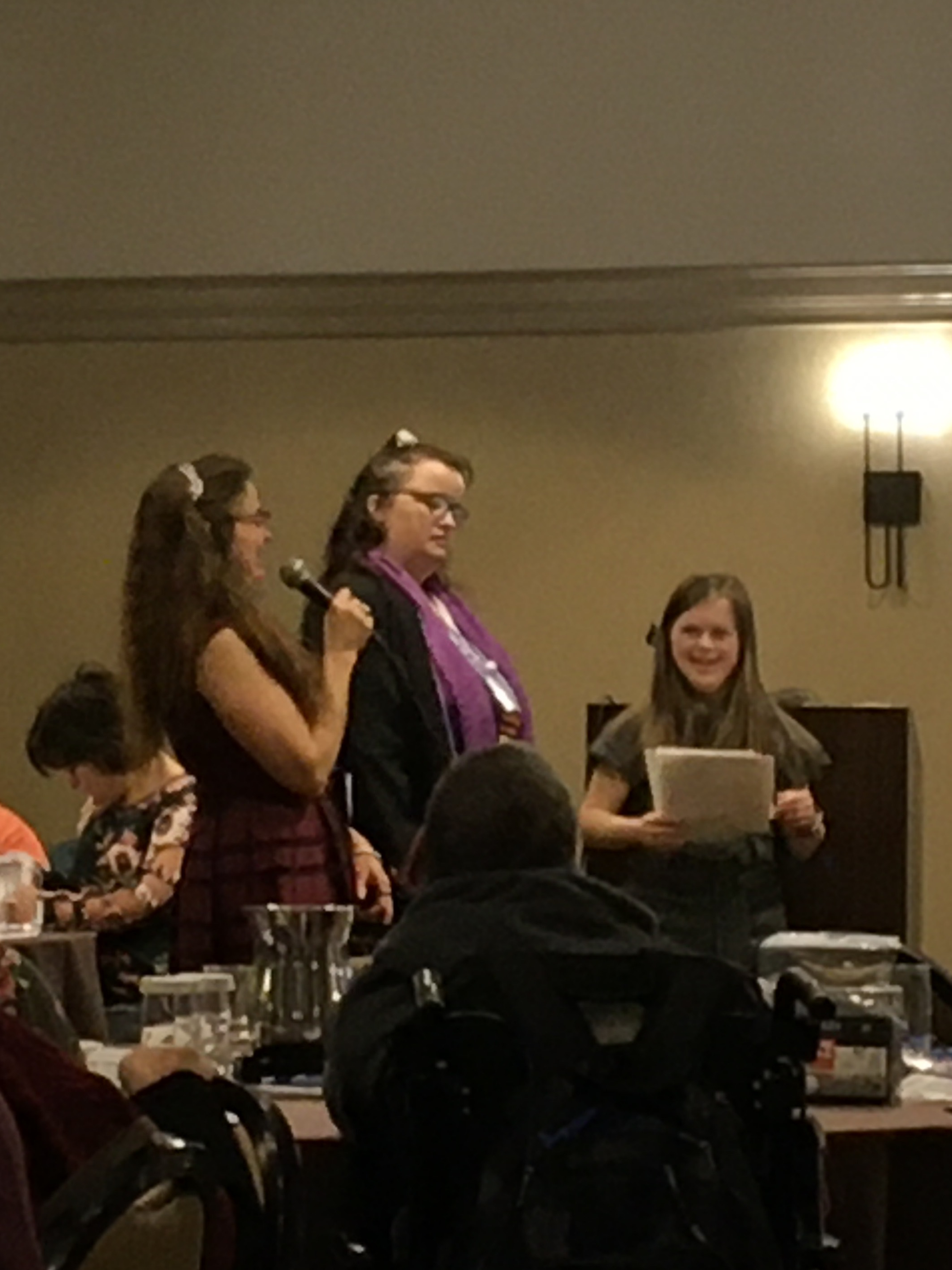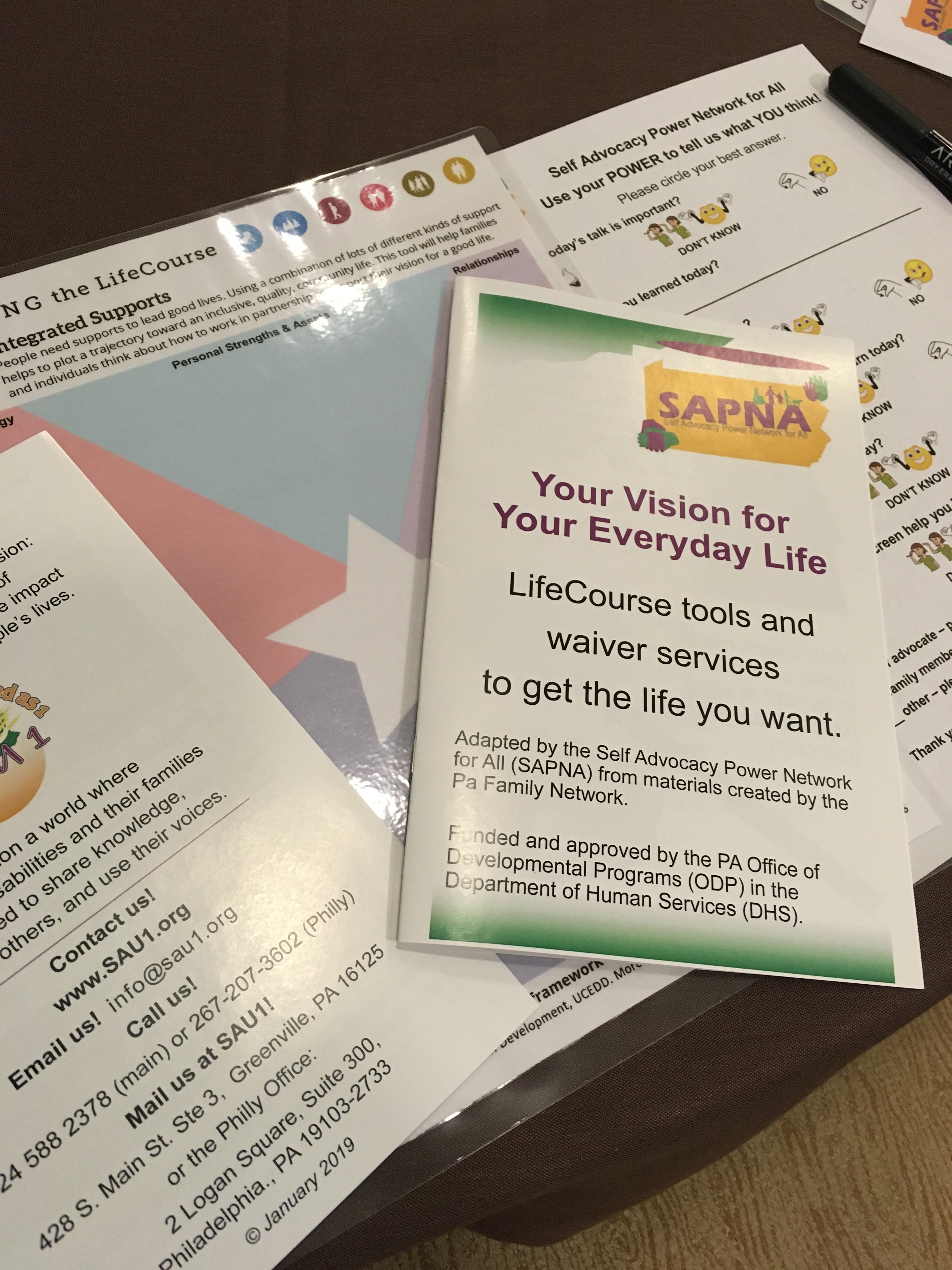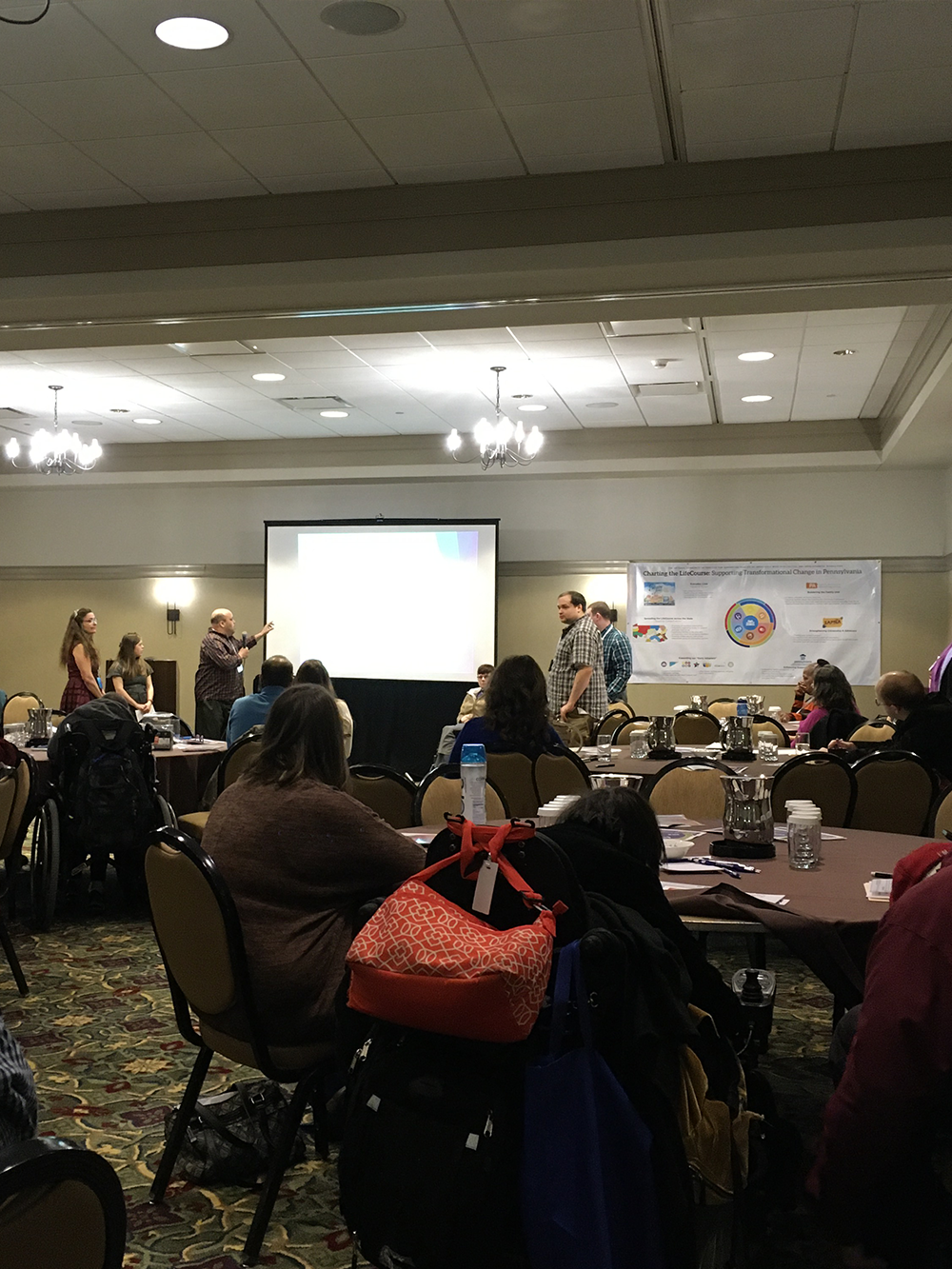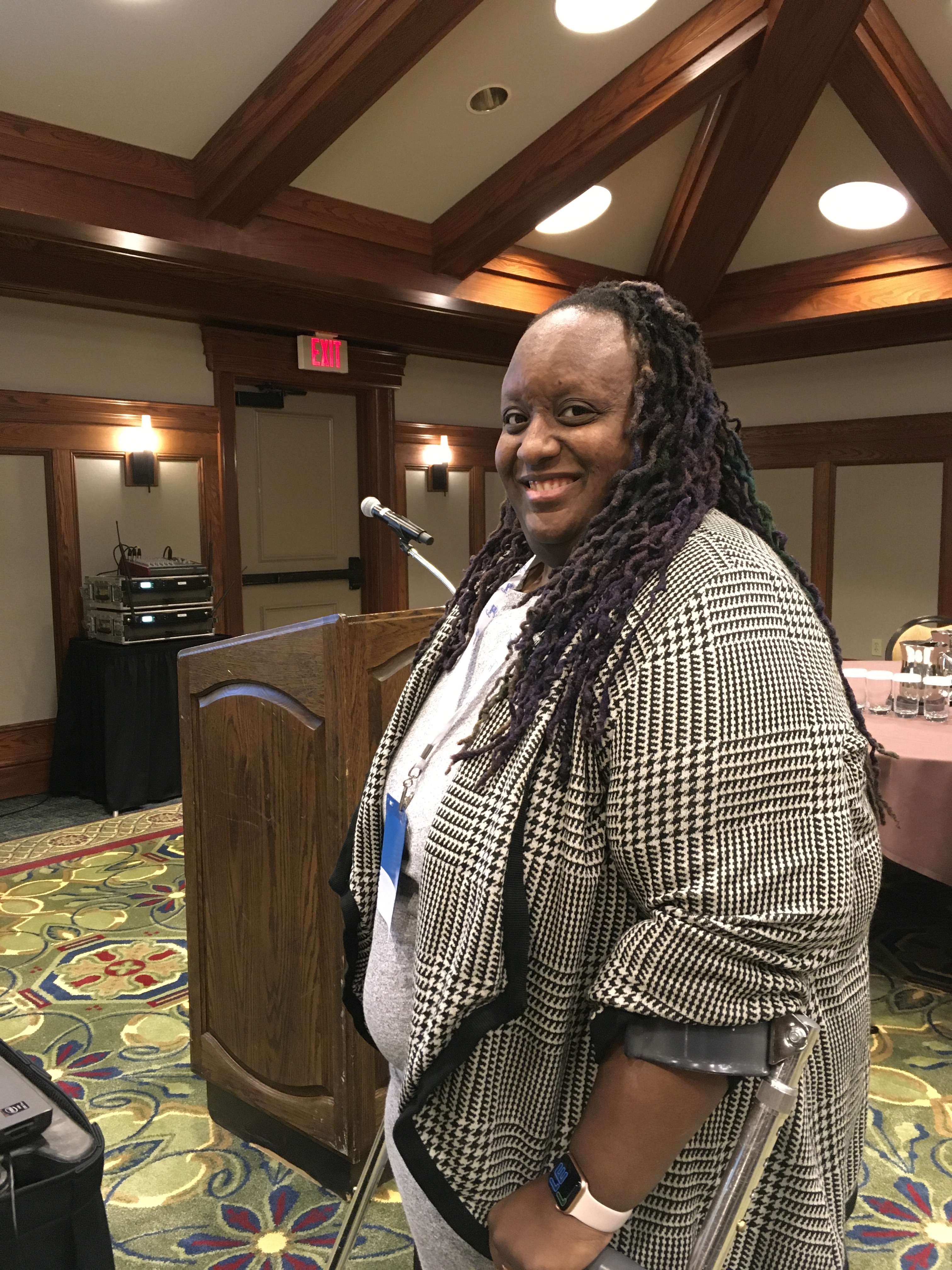 Imani Barbarin discusses how those with disabilities use social media to advocate. Barbarin is a blogger, public speaker, and advocate. She engages an enthusiastic audience, through a interactive conversation, illustrating the ways that social media and its various platforms can be used to engage communities in discussion.
For those with disabilities social media can be used to communicate, advocate, and influence. Barbarin reviews various platforms, explaining the usefulness and barriers of each.
"To find your voice in the crowd you have to know who is already talking," Barbarin suggests. Listen first, and find out what is already being said to learn the rules of the community. Barbarin says this is the most important part of learning to navigate social media.
Barbarin talks about person first language vs identities first language. She claims that identity first language requires gathering information and assimilating knowledge about a group first. Embracing the identity first perspective helps to foster pride, Barbarin contends, even if an individual chooses to embrace a slur.
She encourages the audience in a group activity that involves following five groups and reviewing their profiles as they are depicted on social media. As a result of the group activity the audience learned the importance of developing their voice. Barbarin says this is crucial to gain a following. She provides solid advice about delivering a clear and consistent message and providing content that is timely.
"Talk to people like people," Barbarin says. It is individuality that produces a unique perspective. "And don't hide your disability... your perspective is a living experience."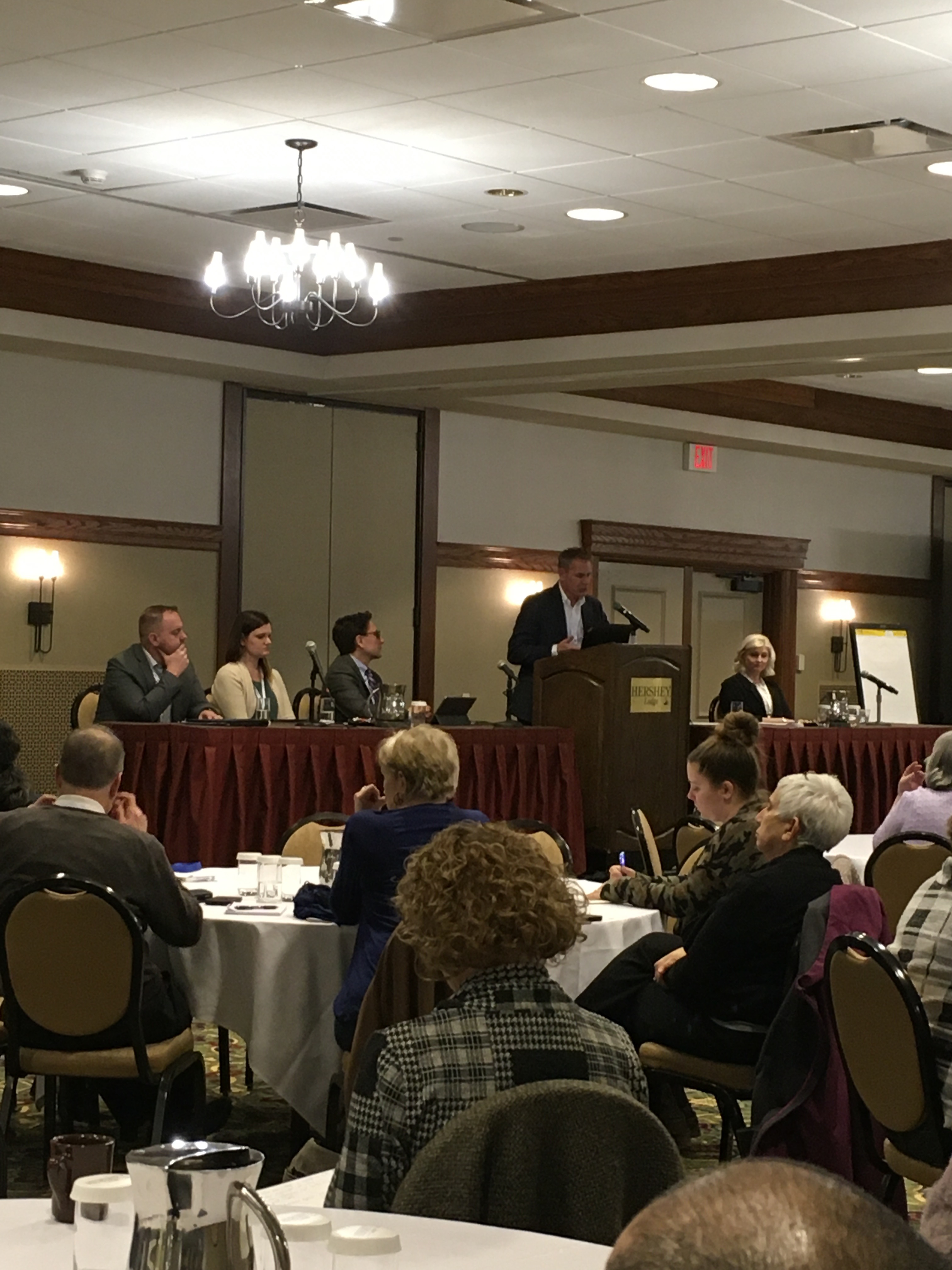 Technology continuously transforms our lives and shifts paradigms in the blink of an eye. It is important that our service system keep up with the digital age. Experts in the field of technology supports coordination present on how they have developed technology and programs to reflect our changing times.
This panel features local and national representatives from AbleLink, KenCrest, Keystone Human Services, and Merakey.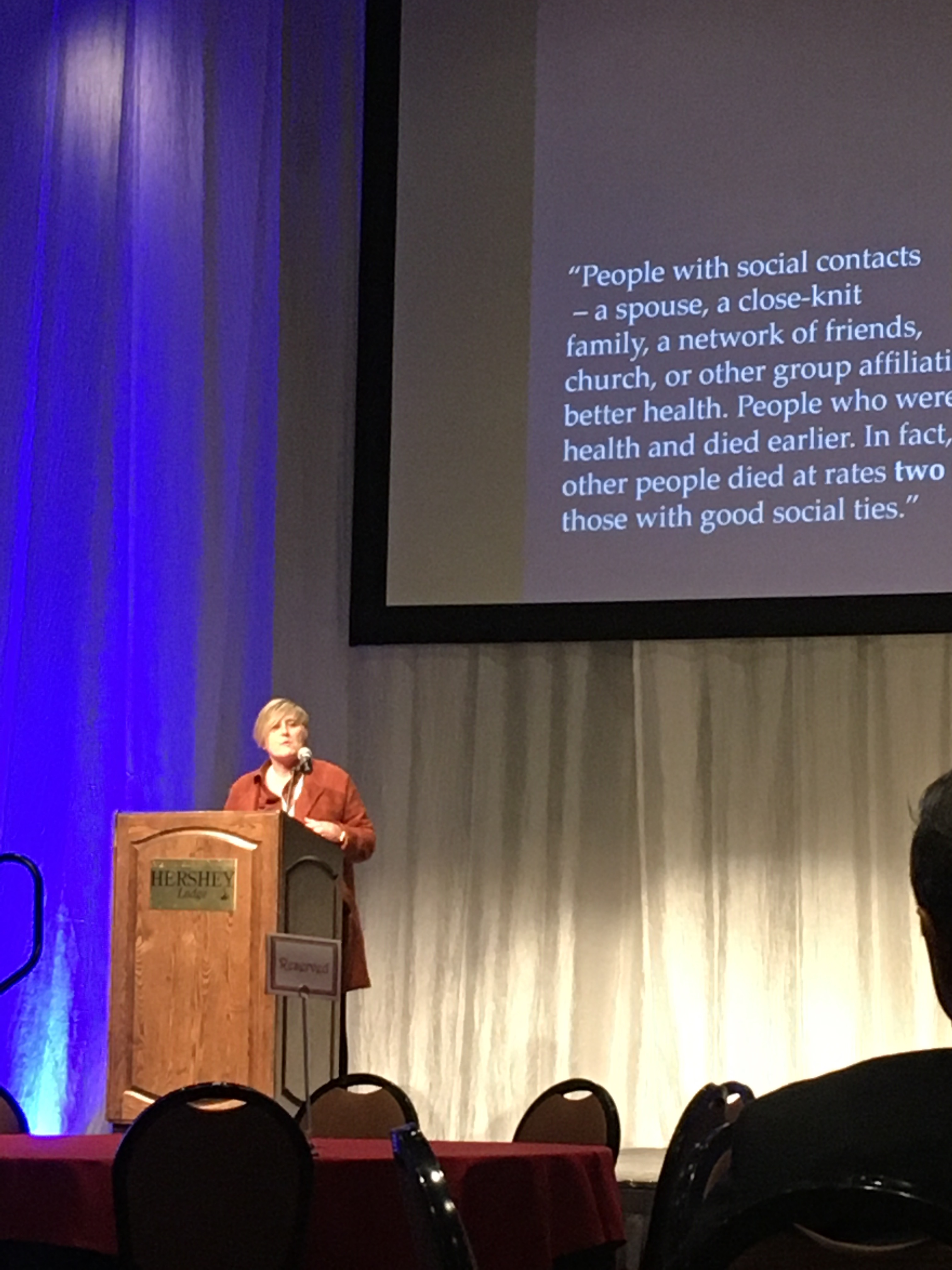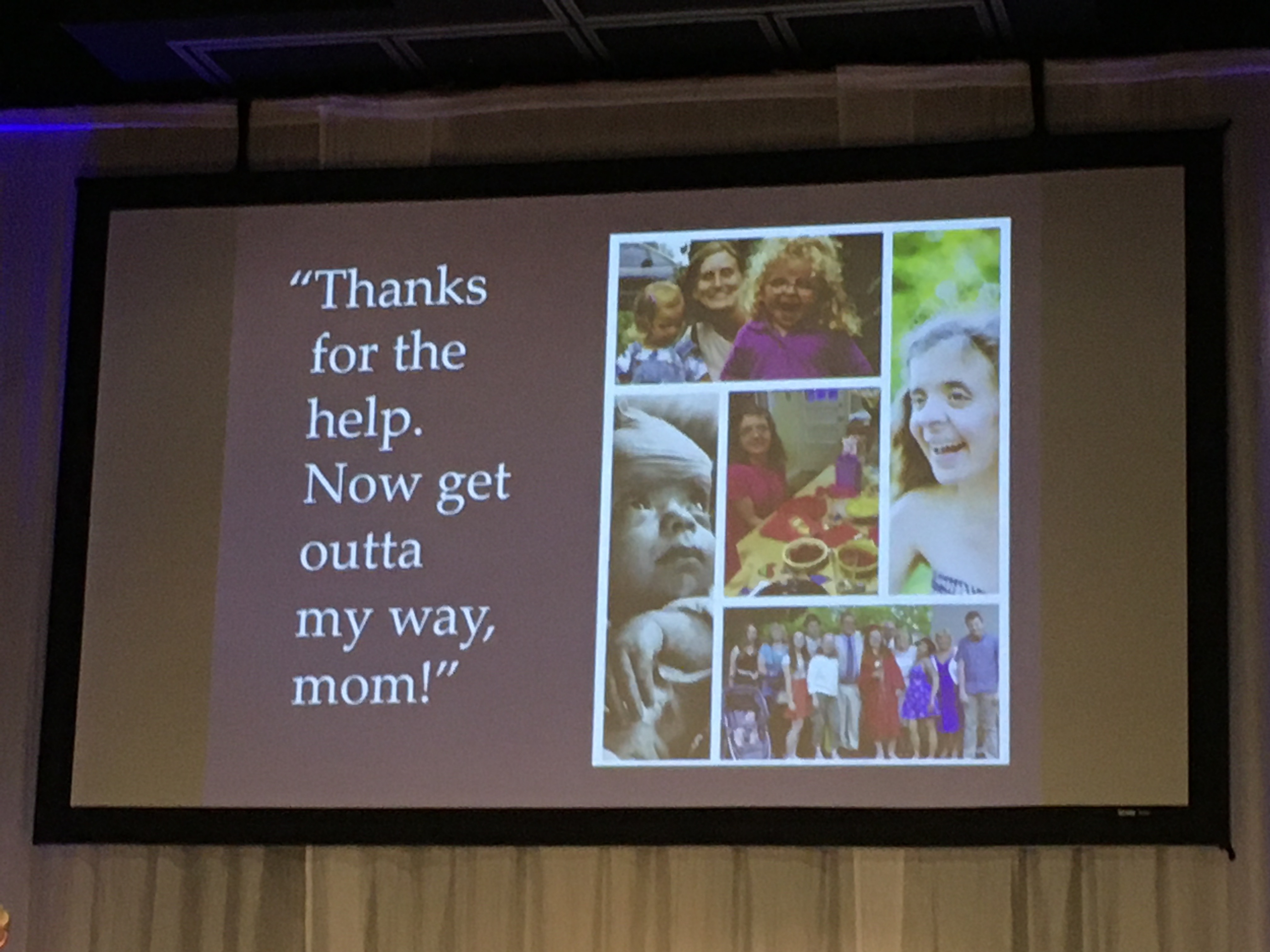 Sharon Lewis hosts a breakout session on home and community based supports. She discusses the incredible changes seen over the past few decades, as the service system has shifted towards inclusion. According to Lewis, those with disabilities who are supported, celebrated, respected, and contributing to their communities, become our neighbors and a part of our community.
"We have to move away from custodial supervision... from attaching people to adults ... to moving out of that paradigm..." Lewis advocates finding supports that fit into the lives of those served, rather than forcing them to fit the system.
Additionally, direct supports professionals should be trained to facilitate relationships, she said. By aligning supports into the lives of individuals we prepare them for life outside the system.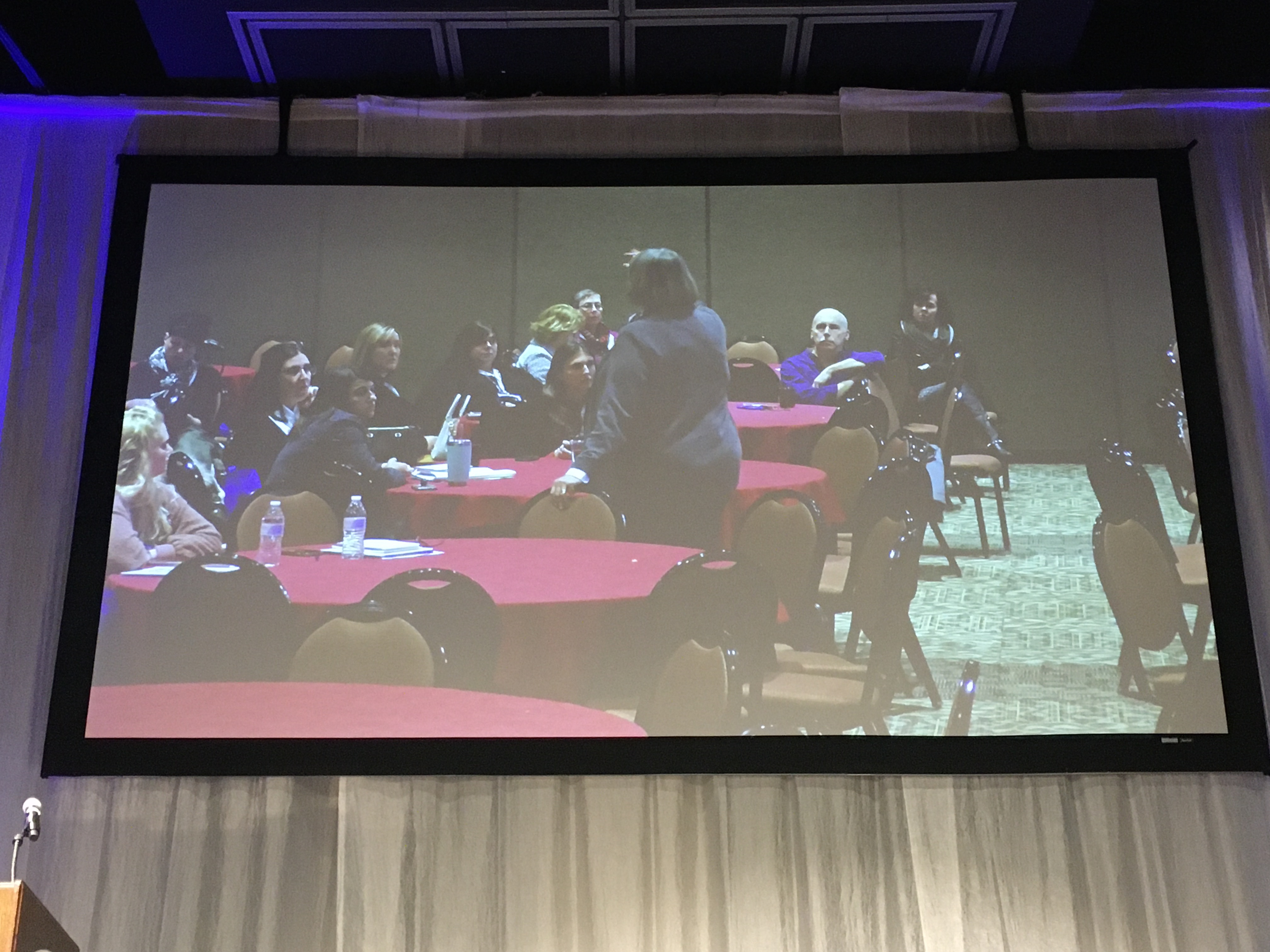 Pennsylvania strives to ensure that citizens with disabilities have Everyday Lives. Sue Swenson discusses the history of community inclusion and human rights, from the Bill of Rights, to Civil Rights, to Political Rights and reflects upon the system that provides services to citizens. "We spend all of the time protecting what we've got," she says of those advocating for disability rights. She states that our socio-economic rights are not ensured the same protections as our Constitutional Rights.
Swenson walks among the conference participants, engaging and inspiring the final assemblage of the participants. Discussing the right to receive equal access to inclusive schools, she cautions parents of students with disabilities to see their child's IEP not as a right, but as a duty. She encourages parents to be willing to "go beyond compliance" to see that your child receives what is needed, because the protective laws that would ensure equity do not suffice or are non-existent.
"Help them understand they have the power and capacity to include" your child in an inclusive classroom. Swenson relates her own experiences in advocating for her own son.
Swenson next discusses American values and the culture of having more. More human services for your child is not necessarily the solution, Swenson says. Adding staff and increasing budgets does not equate to receiving better services. Merely because an institution is more costly, she concludes, is not evidence it is better.
People "are happier and live better outside of institutions." She says what must be constructed is a system that is made for people, that exists where they want to live, and that provides the supports needed.
Swenson places the discussion of Pennsylvania into the framework of the International discussion on the rights of individuals with disabilities. She explains that human rights standards must be used to measure our state's system, and advocates ratification of the Convention on the Rights of Persons with Disabilities (CRPD), which fell 6 votes short of happening in 2012.
Inclusion International, Swenson's organization, utilizes self-advocates to provide "Empower Us" training that focuses on what and how to provide good supports for people with disabilities. The organization's work also involves advocating for the human rights of people with intellectual disabilities worldwide. Its strategic plan involves implementing the CRPD.

Updated January 09, 2019 16:13