MyODP News Online
A LifeCourse Journey: Crossing the Commonwealth with SAU1's Renee Benise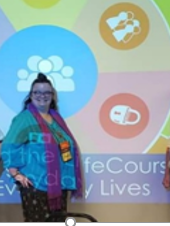 Renee Benise first encountered the LifeCourse Framework at a presentation by Self-Advocates United as 1 in Hollidaysburg. She appreciated how easily it offered an opportunity to help her attain her personal goals. Impressed with the Framework, she began work with SAU1, where she worked to become a LifeCourse instructor.
For the past two years, Renee has traveled through the commonwealth, teaching the principles of LifeCourse to self-advocates and family members. According to Renee, she loves the travel and to train others in using the LifeCourse tools. She enjoys her work and has made many friends among her coworkers. Her travel takes her to new places and enables her to meet new people.

Renee discusses LifeCourse and confides that her favorite tool is the trajectory star. She explains that goals are listed on the trajectory, helping the user to visualize the steps needed to achieve one's goals. This tool is one she has used many times in envisioning her own goals. Renee says sharing her own personal story as she works to help improve the mental health system in her home county is an important part of her own trajectory. Future goals include seeing the waiting list eliminated.
Renee says that LifeCourse has taught her how to be a better advocate, to speak up, to persevere, and keep pushing for change. She encourages others to use LifeCourse to envision their own goals and build their self-advocacy skills, so that they too may live the life of their choosing.
Posted: February 24, 2020 14:31