Story Spotlight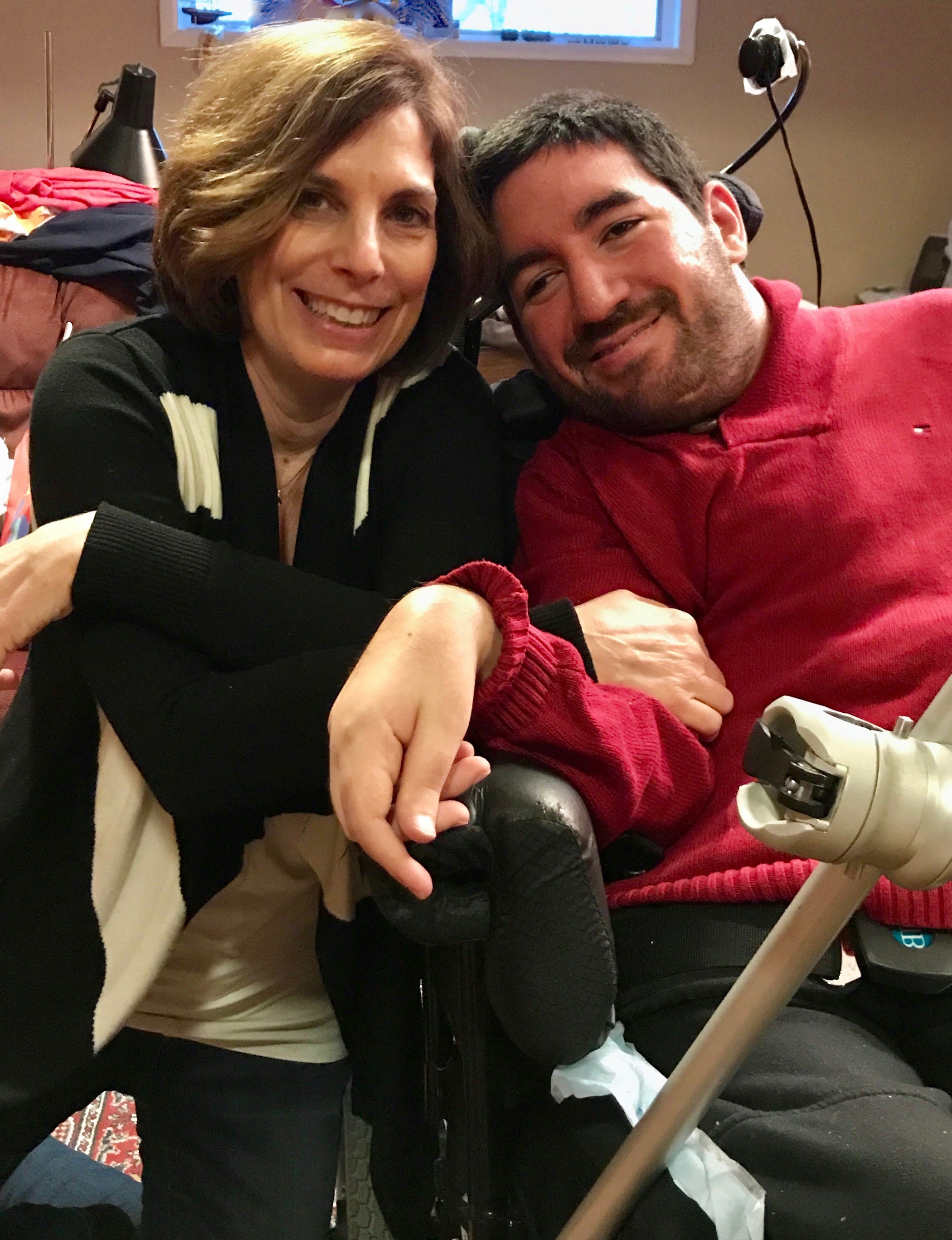 From left: Judith Cohen and Josh
LifeCourse Across the Lifespan, Completely
Josh Kuznetsov, 28, lives in a suburb of Pittsburgh with his mother, Judy Cohen, and stepfather, William Cohen. He volunteers twice a week – on Mondays he works at the library at the Rodef Shalom synagogue, and on Tuesdays he is at the Friendship Circle. He enjoys bowling, going to the movies, and shopping for clothes at the mall or helping his mom shop at Costco. Josh is a lover of classical music and listens to it on his Alexa. He occasionally attends classical music concerts.
Josh uses a Dynavox for conversations with friends and family, to email, and to change the channels on the television. The communication device also enables him to access his Amazon Alexa, which makes phone calls over the internet and enables him to socialize with friends. He uses his head to control the switch for the Dynavox. Josh has a diagnosis of cerebral palsy and a seizure disorder. He is medically fragile and at high risk for respiratory illnesses. He has a g-tube through which he receives all of his nutritional needs. He is a wheelchair user.
Advocacy
Judy volunteers on the board of Jewish Residential Services, an agency that supports individuals with psychiatric, developmental, or intellectual disabilities, helping them to live, learn, work, and socialize as valued members of the community. She also serves on the Advisory Committee of the United Way's 21 & Able initiative and is the chair of its Committee for Individuals with Complex Medical and Behavioral Needs.United Way's 21 & Able helps young adults with disabilities transition smoothly from the last day of high school to the first day of adult life by increasing employment, housing opportunities, and other support. It was through her volunteer work at the United Way that she learned about the Community of Practice (CoP) LifeCourse Framework.
Judy Cohen and her son Josh used the LifeCourse Framework to start the difficult conversations around succession planning.
Charting the LifeCourse
The LifeCourse Framework helps individuals of all abilities and at all life stages, and those who support them, to develop a vision for a good life, to think about what they need to know and do, identify how to find or develop supports, and discover what it takes to create the lives they envision. LifeCourse also helps individuals keep an eye to future experiences that enable an inclusive and meaningful life in the community. Cathy Traini, ODP program specialist and certified Charting the LifeCourse trainer, spoke at a 21 & Able Complex Needs Committee meeting to present the LifeCourse. Afterward, Judy and Josh agreed to be a "test case" for the framework.
Putting It in Practice
Representatives from the county, Josh's supports coordination unit, and ODP staff attended three meetings. (Josh attended the first and third meetings. Judy met with the group on her own at the second meeting, as they focused on succession planning in the event that she and her husband, William, were no longer able to take care of Josh.)
"The LifeCourse process focuses both on today and the future – what is the life we envision for Josh, and then what are the supports he will need to have that life?" Judy said. Josh liked being part of the process since this was planning for him. "It felt good to see how much everyone cares about me and my future," he said.
"It is not a 'services'-based process. It is strengths-based – in other words, we focused on Josh's skills, personality and things he enjoys doing – not what he can't do. This is an important distinction and completely changes the framework and dynamics of the conversation."
Difficult Conversations Made Easier
It opened up the opportunity for the difficult conversations."Not everyone may be comfortable with this," Judy said, "but I chose to use this as a time to talk about how

Josh would be cared for if my husband and I are no longer here to do that. Josh's supports coordination team has always been supportive and a great resource. Going through this process has deepened that relationship and given them a better understanding of Josh and what our family envisions for him."
"My hope is that other families will benefit from the work we have been doing," Judy said.
Learn more about the CoP LifeCourse Framework at MyODP > Resources > Charting the LifeCourse.
View the Story Spotlight: Archive

To suggest a story or situation of people living Everyday Lives, please e-mail ra-pwmyodp@pa.gov.
Last modified: Thursday, July 11, 2019, 4:36 PM