Story Spotlight: Archive

LifeCourse Across the Lifespan, Completely

Josh Kuznetsov, 28, lives in a suburb of Pittsburgh with his mother, Judy Cohen, and stepfather, William Cohen. He volunteers twice a week – on Mondays he works at the library at the Rodef Shalom synagogue, and on Tuesdays he is at the Friendship Circle. He enjoys bowling, going to the movies, and shopping for clothes at the mall or helping his mom shop at Costco. Josh is a lover of classical music and listens to it on his Alexa. He occasionally attends classical music concerts.
Josh uses a Dynavox for conversations with friends and family, to email, and to change the channels on the television. The communication device also enables him to access his Amazon Alexa, which makes phone calls over the internet and enables him to socialize with friends. He uses his head to control the switch for the Dynavox. Josh has a diagnosis of cerebral palsy and a seizure disorder. He is medically fragile and at high risk for respiratory illnesses. He has a g-tube through which he receives all of his nutritional needs. He is a wheelchair user.
Advocacy
Lifesharing comes naturally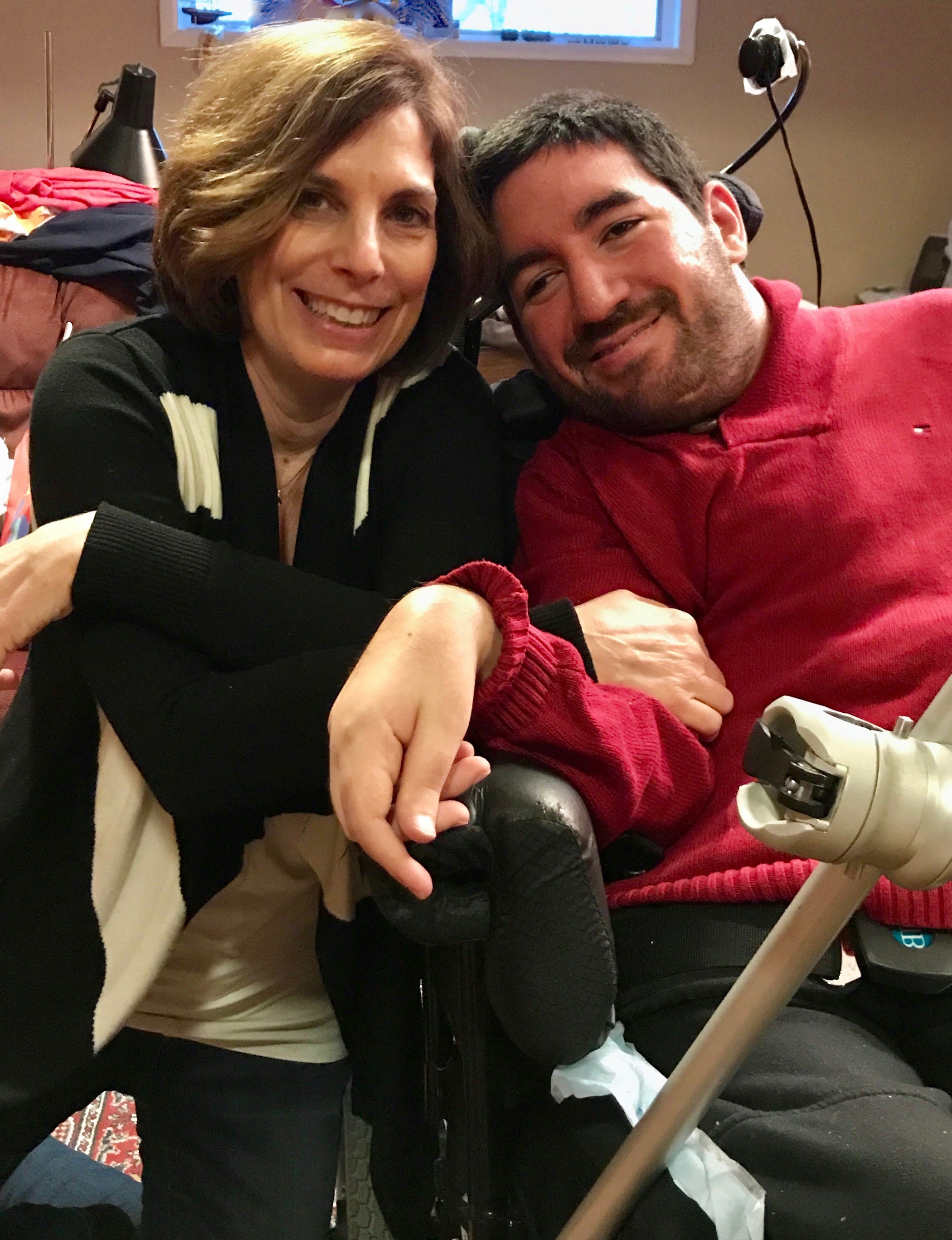 Judy volunteers on the board of Jewish Residential Services, an agency that supports individuals with psychiatric, developmental, or intellectual disabilities, helping them to live, learn, work, and socialize as valued members of the community. She also serves on the Advisory Committee of the United Way's 21 & Able initiative and is the chair of its Committee for Individuals with Complex Medical and Behavioral Needs.United Way's 21 & Able helps young adults with disabilities transition smoothly from the last day of high school to the first day of adult life by increasing employment, housing opportunities, and other support. It was through her volunteer work at the United Way that she learned about the Community of Practice (CoP) LifeCourse Framework.
Judy Cohen and her son Josh used the LifeCourse Framework to start the difficult conversations around succession planning.
Charting the LifeCourse
The LifeCourse Framework helps individuals of all abilities and at all life stages, and those who support them, to develop a vision for a good life, to think about what they need to know and do, identify how to find or develop supports, and discover what it takes to create the lives they envision. LifeCourse also helps individuals keep an eye to future experiences that enable an inclusive and meaningful life in the community. Cathy Traini, ODP program specialist and certified Charting the LifeCourse trainer, spoke at a 21 & Able Complex Needs Committee meeting to present the LifeCourse. Afterward, Judy and Josh agreed to be a "test case" for the framework.
Putting It in Practice
Representatives from the county, Josh's supports coordination unit, and ODP staff attended three meetings. (Josh attended the first and third meetings. Judy met with the group on her own at the second meeting, as they focused on succession planning in the event that she and her husband, William, were no longer able to take care of Josh.)
"The LifeCourse process focuses both on today and the future – what is the life we envision for Josh, and then what are the supports he will need to have that life?" Judy said. Josh liked being part of the process since this was planning for him. "It felt good to see how much everyone cares about me and my future," he said.
"It is not a 'services'-based process. It is strengths-based – in other words, we focused on Josh's skills, personality and things he enjoys doing – not what he can't do. This is an important distinction and completely changes the framework and dynamics of the conversation."
Difficult Conversations Made Easier
It opened up the opportunity for the difficult conversations."Not everyone may be comfortable with this," Judy said, "but I chose to use this as a time to talk about how

Josh would be cared for if my husband and I are no longer here to do that. Josh's supports coordination team has always been supportive and a great resource. Going through this process has deepened that relationship and given them a better understanding of Josh and what our family envisions for him."
"My hope is that other families will benefit from the work we have been doing," Judy said.
Learn more about the CoP LifeCourse Framework at MyODP > Resources > Charting the LifeCourse.
Lifesharing: A Family Tells Their Story - David Steppe
When Patricia Knapp of Williamsport learned about Lifesharing, she loved the idea of opening her empty nest home to individuals with a disability. She crunched the numbers and realized if she and her husband, Wayne, hosted two individuals they could afford for her to quit her job and stay at home with their grandchildren. Lifesharing supports individuals with intellectual disabilities to live with qualified unrelated adults who provide support in their home. Lifesharing is both a close personal relationship and a place to live.
Lifesharing comes naturally
to Patricia, who grew up in a big family. She says the most important quality in a lifesharer is a willingness to make people feel at home.
"It's not, 'You are renting a room in my home,' but 'You are a part of my family now,'" she said. "It's just family. It's always Patty, Wayne, David, and Wilmalea."
David Steppe needed a home for one weekend 17 years ago and has lived with Patricia and Wayne Knapp ever since.
"I like living with them. They treat me nice," David said. He likes Pat's cooking and enjoys singing in the church choir. They've traveled together to Disneyworld three times, to the Florida Keys, Chicago, and Maryland.
David is Patricia's right-hand man, she said. "If I am doing laundry he wants to help me. If I'm raking leaves, he wants to help me. If I get my granddaughter out of the car, he says, 'Do you want me to carry her?'"
Wilmalea has lived with the family for 14 years. Her sense of humor is a great addition to the family, Patty said.
On a typical day, on Wayne's way to work he drops David off at his job at a snack food company then picks him up on his way home. During the day Wilma and Patty run errands and visit Patty's mother. Patty says the best part of Lifesharing is that she gets to provide love and care for David and Wilmalea. "I added to my family," she said.
For more information on Lifesharing, visit the DHS website and the PA Lifesharing Coalition
Lifesharing: A Family Tells Their Story - Mike Behmer
Mike Behmer has blossomed since he started Lifesharing with the Brewer family in 2009. Lifesharing is when a person with a disability lives with supportive persons who form a caring household and who share life experiences.
"He had only known institutions and group homes for most of his life," said Debbie Brewer of Koppel, PA, north of Pittsburgh. "He has very few good memories of his early life." Debbie and Mike met at a group home where she worked and he lived as an adult.
After Mike began living with the Brewers, "I started seeing a self-confidence I had never seen before. We were surprised," she said.
"We are a huggy family and we have huggy friends. He would just stand there. His arms never moved," said Debbie Brewer, a Lifesharing program specialist with Passavant Memorial Homes. "Now he's hugging people, initiating it on his own. He initiates conversation with people. At our church on Sunday we get up and introduce and greet people. Mike is all over the auditorium. He's greeting people he does know and people he doesn't know."
Mike likes traveling with the Brewers. "I went to the zoo, to Cedar Point (amusement park), on vacation at Edinboro Lake every year, Niagara Falls, Disneyworld," Mike said. "We go more places. I like to travel with Deb. We have parties."
Mike works two jobs, placing a pizza shop's notices on doors and doing housekeeping at a nursing home. He also volunteers at a historic home.
He is part of their family now, Debbie Brewer said. "It's his choice if he wants to live with us. We're not ever going to be asking him to leave."
Steve Frock
Steve Frock is an adult with autism who is passionate about sharing his life story. "I want to talk to different people, companies, and organizations about what autism looks like. I want people to understand that the needs of someone with autism change as you get older in life because you learn how to be more independent than you were as a kid."
Steve has many goals for the future. Steve is a person who likes to work, and one of his goals is to get along with his fellow coworkers. Another one of Steve's goals is to live independently in a shared apartment or house. He is also hoping to meet someone special to settle down and raise a family with.
2016 Everyday Lives Booklet Stories
APRIL
Three years ago April began to realize her dream of being an artist. At an art studio, April immediately excelled with creating and designing. She enjoys combining her passion for art with her love of helping others. She is learning, creating, and expressing herself through her art, and recently became employed as an arts enrichment aide at the studio. She works four hours per week. She still has studio time for herself, which is important to her. April also shares her love and passion for animals by volunteering time at area shelters. April excels in basketball and track and is actively involved in Special Olympics.
PAMELA

If you live in Philadelphia and have visited a Home Depot store within the past decade, chances are you have met Pamela. Since 1998, Pam has been employed full-time as a store associate. She takes pride in her job and enjoys working within the community and has established a strong network of co-workers and friends who support her personally and professionally. Over the years, she has taken on new leadership roles and has received numerous employee of the month awards and gifts in recognition of her hard work. Outside of work, Pam lives in a Lifesharing family. She likes spending time with her Lifesharing family member Melva, eating at new restaurants and visiting local shops. People who know Pam say she is friendly, humorous, and a loved woman who likes being on the go. She gets along with everyone and always sees the best in people.
AUSTIN
Austin chooses not to let his disability define him. Through the power of an Agency with Choice program, Austin hires his sister, Tiffany, to be his support. This has proved to be a win-win situation for all involved. Austin gets the precise level of support he needs from someone who knows him intimately, and Tiffany has the satisfaction of helping her brother out while being gainfully employed. And Mom? Well, she's thrilled by the entire arrangement.
ELYSIA
People who know Elysia would say that she is a prankster who likes to joke around and is an overall wonderful young lady with a very bright future. Since high school, Elysia has held a job at a local Walmart, doing janitorial work and whatever else is asked of her. The organization A Home of My Own helped Elysia obtain supports and services to help move outside of her family's home. Elysia immediately knew what she wanted in an apartment. Staff worked with Elysia and showed her different apartments in Allegheny County, but only one place truly was a great fit. Now 21 years old, Elysia has many social interests beyond work and school. In her spare time, she helps young aspiring musicians, songwriters, and singers develop their musical abilities in a community program. Elysia enjoys writing poetry, and is getting help to coordinate her poetry into music.
ALINA (WRITTEN BY HER MOM)
Alina and her support person, Debbie, "grew up" together. Alina was 11 when Debbie came into our lives; she is now 23. Although I am part of a divorced couple, we share Debbie, who supports Alina at both of our homes. Who would have thought that for the past 12 years, Debbie would remain our constant, our sanity, best friend, and trusted supporter. She is our lifeline, the reason we can go to work knowing our daughter is loved and supported every day. Relationships change over time; that's part of an everyday life. Alina and Debbie's did. Initially, Debbie and Alina worked on after-school activities that developed skills while taking into consideration how tired Alina was from school. Alina needs total support and an understanding of her gestures, motions, and sounds to be happy, healthy, and safe. We taught Debbie to "notice what you notice" and, when in doubt, to talk to Alina and let her know what she didn't understand. Some days, they would just hang out on the sofa, with Debbie reading to Alina. They went out to restaurants, parks, museums, movies; anything they decided to do that day. When Alina was in the hospital, Debbie came to see her on her own time. They have a relationship built on love, and love is what Debbie gets back from Alina and us. Health changes over time, too. Debbie is no longer physically able to care for Alina. We've explained to Alina in a way you would tell anyone, and we've taken her to the hospital several times to visit Debbie. We especially miss the interactions she and Alina once had, but we still keep in contact. A new chapter of our lives has begun. Debbie's daughter, Jaime, now supports Alina. We are grateful for the everyday life we continue to share with Debbie and her family.
NAOMI & JUSTIN (WRITTEN BY THEIR MOM)
Twenty-two years ago, my husband Jose and I came here from Puerto Rico. We have a daughter and a son, Naomi (20) and Justin (14). After Naomi was born, the doctors told us that the best place for her would be an institution. This was not the life we wanted for our daughter. We wanted her to live at home with parents who love her. Through the years, Naomi's needs have changed, but the severity of her condition (she needs medical care and round-the-clock supervision) has not. In spite of that, we take her everywhere. We buy the things she loves, like CDs and magazines. She loves to stay at hotels and go in the pool. We've traveled to Puerto Rico to visit with family. We work hard as a family so she can have a life filled with the same opportunities that everyone has. When Justin was 2, I realized something was different. He did not act like other children his age. He was diagnosed with autism. We were already supporting a daughter with severe disabilities, and Justin's diagnosis was heartbreaking. He has come a long way. He is a wonderful young man who goes to school, loves computer games, and works hard to achieve success. Like other parents, we are worried about their futures. We want to stay together as a family for as long as we can. Our deep, abiding love keeps the four of us bound together. Our life is a labor of love, one that is full of challenges, but by far many more blessings.
MICHAEL
Michael is a lifelong resident of Philadelphia. He is a graduate of a public high school and a four-year university's post-secondary education program. During his two years as a university student, Michael took undergraduate academic courses and completed an internship working with the university's police department monitoring activities throughout the main campus. Michael was the first recipient of the annual Spirit of Pride award, distinguishing him as a well-rounded student excelling in his academic and career development pursuits. Michael says he loves a challenge because it shows what he can do with his abilities. While attending school, he took an acting class, which is where he gained an interest in performing. Michael made his professional acting debut April 2016 in the Philadelphia play, "A Fierce Kind of Love," which depicts the Pennsylvania disability rights movement. When not performing, Michael works as an office assistant at Temple University. He enjoys relaxing at home and watching Netflix with his fiancée, Charlene. Their wedding is planned for October 2016.
SUSAN & MEREDITH (WRITTEN BY THEIR MOM)
My husband and I have five children, and our youngest are five-year-old identical twins, Susan and Meredith. All five have attended the same private preschool, and all five will attend our local public school. This sounds like any family story, except that our twin girls have Down syndrome. When we received the prenatal diagnosis, we were overwhelmed by all of the ways we were told that our girls would be different from other children. They are different, but we have learned that they are so much like our other kids and our neighbors' kids and all other kids. We choose to focus on the similarities, and have pushed to involve our girls in the same experiences their siblings have had in our community. What was important for Rory, Michael, and John is just as important for Susan and Meredith. We have been supported by the teachers in our preschool and therapists in working through the differences. Having our girls in the local preschool has taught their classmates about differences, the teachers about different learning styles, and families about including kids with all abilities in a meaningful and fun way. We live our life as a family, not just as "that family" with the twins with Down syndrome.
Featured Stories from ODPconsulting
T's Story
T's story is about a man with an intellectual disability, neurodevelopmental disability, and a mental health disorder that challenged the thinking of his supporters about how things should be done. His story is also a reminder that diagnosis should not overshadow the individual needs of the person or the person's strengths and abilities.
Read the T's Story transcript (pdf)
Read more about Fetal Alcohol Syndrome in the FAS Newsletter (pdf)
Lifesharing in Pennsylvania
This 20-minute video provides an overview of Lifesharing. Lifesharing (also known as Family Living) is a service available in Pennsylvania in which an individual with intellectual disability (ID) chooses to share a home and his or her life with another person or family to form a caring environment. The video tells the story from the points of view of three Pennsylvania families, the individuals who live with them, and an individual's aging parent. The video also presents Patty McCool, ODP Director of Bureau of Supports for People with ID, and Stephanie Brown, a PA Lifesharing Coalition member.
Watch the video about Lifesharing. . .
Dennis's Journey
"So many people see only disabilities. Look at Dennis. Look at the possibilities. He leads a complete and full and rich life. He has dreams and goals, and his community is behind him. Dennis has always led the way . . . And I have followed." – – Dennis's Mom
Congratulations on Celebrating Nine Years, Dennis!
Dennis and co-workers celebrate his nine years on the job. (Article reprinted with permission from the Pike County Dispatch (1/8/2015 issue) Read Article about Dennis . . .
Watch the video about Dennis . . .
Dennis hosts a pizza party for friends and co-workers in his new home. Read about the event.
Amber Communicates
. . . Just Listen
Amber doesn't say much, at least in strings of words that most people would understand. "We have to use alternate modes of communication."
Amber Communicates (written version)
Employment – How it Happened for Me
Larry started his path to a work career at VIA of Lehigh Valley, Inc. in a sheltered workshop setting and is now working in the community at a job he enjoys. Cheryl is an Employment Coordinator at VIA of Lehigh Valley, Inc. and is part of Larry's support team. In his own words Larry shared how the transition to community employment happened for him.
Read the complete Employment – How it Happened for Me story .
The College of Direct Support
The College of Direct Support is a national, web-based curriculum for people who support women and men with developmental disabilities.
Read More about the College of Direct Support . . .
Last modified: Tuesday, September 10, 2019, 12:36 PM