Did you know language development and executive functioning skills are related to each other in important ways?
They have a reciprocal relationship, meaning each relies on the other for optimal growth. Language processing recruits many executive functioning skills.  
Here's a reminder about executive functioning-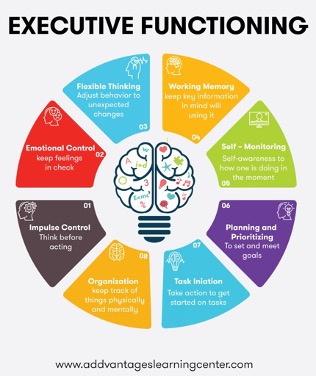 If someone you support has impaired communication, it's likely they will have executive functioning deficits because of the correlation between them.
So what?
You may be frustrated that the person you support always grabs the item you have. Or maybe you don't understand why their emotions are all over the place. If you're aware of this connection, you can be understanding of their skill deficits and find increased patience, as well as strategies to improve not only their communication but in turn their executive functioning skills!
J Child Psychol Psychiatry. 2016 Feb; 57(2): 180–187.
Posted December 2021