Communication Corner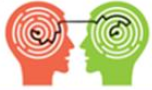 CHECK THIS OUT!
Are we listening? The Challenges and Opportunities in Communication
This issue was created to inform and educate readers on the many forms of communication and how best to use these methods to ensure individuals are given every opportunity to reach out, connect, and find their place in the community living an everyday life.
There are 8 different articles touching on a variety of topics:
· A mother's trials and victories supporting her son with deaf-blindness
· Data discoveries surrounding communication assessments
· Tips and strategies to support those without formal communication
· Information about language dysfluency and its impact
· The challenges surrounding those in the disability community with limited English proficiencies
SO much more!!
This issue of Positive Approaches Journal is in digital format, available for viewing online or for downloading at:
https://www.myodp.org/mod/book/view.php?id=28374
For more information on the Communication
Corner, please contact the Special Populations Unit at